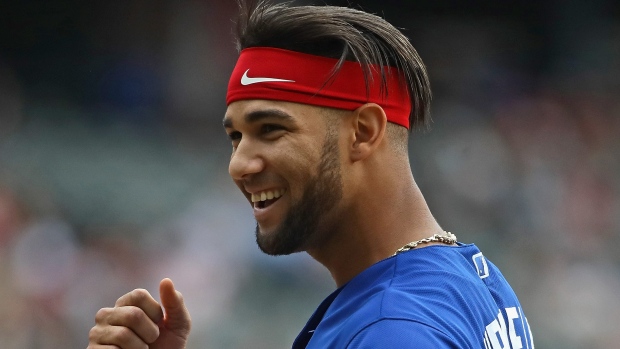 Here we are two months into the 2019 season. The Blue Jays are a full four games worse than they were a year ago (after 53 games last season, they were 25-28 vs 21-32 this season). A lot of the decline has to do with the roster turnover the last 18 months or so (JA Happ, Josh Donaldson, Troy Tulowitzki, Billy McKinney and Kevin Pillar have all been dealt, released or signed with another team in the off-season). The Blue Jays have several rookies that are playing on a given day. Starting pitcher Trent Thornton, reliever Elvis Luciano, 3rd baseman Vladimir Guerrero Jr., 2nd baseman Cavan Biggio, 1B/DH Rowdy Tellez, C Danny Jansen, and CF Johnathan Davis are all in their rookie years. Injuries are another factor. The starting pitching has been decimated with injuries. Before spring training ended, the Blue Jays had Ryan Borucki, David Phelps (he was expected to miss time as he was recovering from TJ surgery), Clay Buchholz (is hurt again) and Clayton Richard on the IL. Matt Shoemaker tore his ACL in his 5th start in a Blue Jays uniform. Aaron Sanchez is continuing to have blister issues and stiffness in his surgically repaired finger. The Veterans have struggled at the plate too. Anyway, it was another busy week with lots to break down. Here are ten random thoughts from week 8 of the MLB.
1. The Blue Jays got some good news and not so good news on the injury front. Let's start off with the good news. Clayton Richards came off the IL to make his Blue Jays debut Thursday. The 35 year old veteran missed the first two months of the season with a stress reaction in his knee. Richard had a solid first outing throwing 4 innings of 2 hit ball, allowing just the one run and striking out a pair. To be sure, it will take him a few starts to build up his pitch count and arm strength. Ideally, he would have had a few more starts in AAA, but the Blue Jays could not afford the luxury with the starting pitching crisis.
2. The bad news is reliever Ryan Tepera is back on the IL after injuring his elbow for the second time this season. He also missed the first part of the year with an elbow injury. Tepera made 12 appearances this season and was 0-2 with a 6.55 ERA. He really did not look right at all this season. More troubling is he is seeking the expert advise of renowned surgeon Dr. Andrews, who has done numerous TJ surgeries on pitchers. Tim Mayza was also put on the IL Sunday with a strain to his UCL. Mayza last pitched May 21 against Boston. In 25 appearances this season, Mayza has a 3.48ERA. You can bet with the elbow issues that occurred to Tepera and Ryan Borucki, the Blue Jays will be extra cautious with Mayza.
3. In a bit of a surprise move, the Blue Jays optioned veteran Billy McKinney, acquired in the July 26th trade last year, to Buffalo. This move is surprising because the Blue Jays don't have a lot of depth in the outfield with Randal Grichuk and Jonathan Davis being the only natural outfielders on the roster at this time. McKinney was batting .229 with 3HR and 9RBI in 153 AB this season. McKinney is only in his second year in the MLB, so hope is not lost for him yet.
4. Lourdes Gurriel Jr. returned to the big league Friday after a six-week stint in the minors to work on his defense and his bat. Gurriel Jr. was mainly sent down because he was having issues throwing cleanly from second base. He got some reps in the outfield while in the minors and was in left field for the weekend series against San Diego. He was one of the bright spots offensively with a pair of home runs and he was fine defensively. This may be one of his last chances to prove himself at the big league level. I only hope he does not go the way of Chuck Knoblauch, who had his own issues with defensive yips, including after switching to the outfield.
5. The most important move made this week was recalling #19 prospect Cavan Biggio, who is the son of Craig Biggio. While Vladimir Guerrero was consistently awesome in the minors, Cavan Biggio has been steadily improving at every level. Biggio held his own defensively, but he was 0-6 at the plate on friday nd Saturday combined striking out 4 times. Like Guerrero, Biggio will likely need a few days to adjust to this level of pitching. It's exciting to see these much anticipated prospects starting to get their chance in the bigs. Bo Bichette, recovering from a fractured hand, could be called up in September.
6. Let's talk about the pitching for a minute. For the first month of the season, the Blue Jays pitchers have more or less kept the games pretty close. However, this week, the wheels fell off big time. On Monday Blue Jays pitchers were beat up to the tune of 12 runs on 16 hits and 4 walks. On Tuesday, while the Blue Jays won, Sam Gaviglio and Joe Biagini both allowed a run in a combined 2.1 innings of work. On Wednesday, every time the Blue Jays came close or tied the game, the Red Sox scored another run. Thursday, Blue Jays pitchers allowed 8 runs on 15 hits and a pair of walks. On Friday, Daniel Hudson gave up an 8th inning 3-run HR that proved to be the difference in the game. And then there was Saturday.. The Padres destroyed Blue Jays pitching scoring 19 runs on 20 hits (setting a new franchise record with 7HR in the game) and 6 walks. Luke Maile and Edwin Jackson were the only Blue Jays pitchers to have a scoreless inning. Maile struck out two batters. Everybody (starters and relievers) was bad this week. Tim Mayza (a walk and 2 strikeouts in 0.2IP) and Ken Giles (1 hit and a strikeout in an inning of work) were the best of the bunch this week. Clayton Richard also gets a pass for a decent effort (1 run on 2 hits over 4 innings). Pete Walker might be in trouble.
7. Here's a take from Jays Journal on
management and fan interest
. I'm not going to lie. It's not easy being a Blue Jays fan these days and watching this team struggle to scrape across a modicum of runs. I've had to rely on moments like a great defensive play by Vlad, or Lourdes Gurriel Jr. hammering pitches on back to back days. It's one thing to accept losing, it's another thing to keep fans engaged and coming to the ball park. The die hard fans like myself and readers of this blog? We'll be watching game in and game out, but the team cannot survive with that base. You need to provide fans with a reason to come to the ball park, whether it be watching exciting prospects like Vlad and Cavan, or seeing the team win once in a while. The moves management has made, getting rid of the older players and injecting the team with raw rookies has resulted in making the team worse in the short term. Which brings me to the dumb decision to sit Guerrero Jr. the opening game of the Red Sox-Blue Jays series. Guerrero Jr. is 20! He should be playing every day and gaining that much needed experience. Same thing with Biggo, Jansen, Davis, and every other rookie in the Blue Jays lineup. Let the fans have some hope.
8. Ben Revere was released from his minor league contract, ending any hope of a second stint with the Blue Jays. Revere was acquired July 31st, 2016 and played 56 regular season games, batting .319 with 1HR and 19 RBI. He batted .304 in the ALDS with 1RBI, 7 hits and 3 runs scored. Revere was reduced to 5 hits in 24 AB in the ALCS. He has not played in the MLB since 2017.
9. Blue Jays fans will agree with some of the names on
this list
who have already torched the Blue Jays this season. Rafael Devers was a big part of the beat down this at the hands of the Red Sox. Lucaas Giolito won both his starts against the Blue Jays, allowing just 7H and 2R over 12IP. Joey Gallo has hit .333 and scored 4 times so far. Martin Perez is 1-0 in 2 starts and allowed just one run on 9 hits over 13 innings. The one that probably hurts Blue Jays fans most is Gio Urshela, who was a Blue Jay last season. The Blue Jays will see him in Toronto in a week.
10. Blue Jay of the week: Lourdes Gurriel Jr. The converted outfielder had a hel of a weekend. He homered in three straight games, went 4-4, scoring three times and driving in 2 on Sunday. He was also fine in the field, which was the concern. Encouraging return for Gurriel Jr.