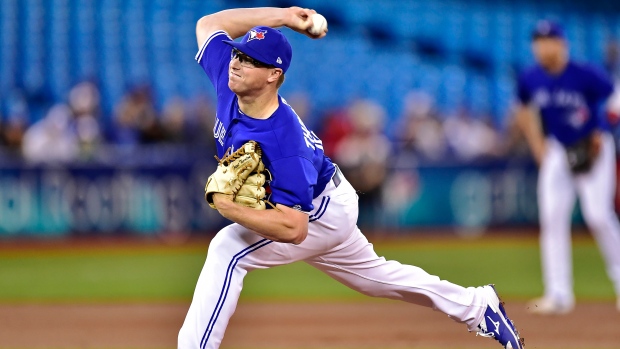 Vladimir Guerrero Jr. cleared another milestone in his early career that's sure to land him in the hall of fame (once he gets the bat going that is). Guerrero Jr. completed the first road trip of his young career. It was a tough week all around for the Blue Jays, as they dropped five of six on the road trip, winning perhaps the most unlikeliest of the six games to have won, defeating the Rangers in the opener of their weekend series after arriving in the wee hours of the morning, facing a pitcher that always seems to give the Blue Jays trouble and using a pitcher that has yet to win an MLB game. Now, the Blue Jays are home for a week with series against the Minnesota Twins, who the Blue Jays took two of three from a couple of weeks ago, and the Chicago White Sox, who the Blue Jays won 4 of 6 against last season. It's imperative the Blue Jays get some length from their starting pitchers this week to save a bullpen that has been used a lot in the early going. Here are ten random thoughts from week 5 of the MLB.
1. Let's start with some injury updates. Ryan Borucki began a throwing program this week after receiving a cortisone shot in his sore left elbow a couple of weeks ago. Because Borucki is starting from scratch in terms of throwing, he'll need a good month or or more before he's ready to pitch for the Blue Jays and even then it'll take a few starts to build back up to the 90-100 pitch mark you want to see starting pitchers throw.
2. Meanwhile, Clayton Richard and David Phelps continue to throw bullpens as they make their way back from respective knee and elbow injuries. Phelps'return may be further behind given he is recovering from Tommy John surgery. Richard is expected to have a crack at the vacant #5 starter's spot once he is cleared to return. Thomas Pannone has not looked good in any of his starts, Sam Gavigoio makes me nervous past an inning or two, and the Joe Biagini experiment is mercifully over for good.
3. Speaking of projects, one would hope that Socrates Brito's days are numbered. Brito made two costly mistakes in the field, one that was an error, Saturday which resulted in five runs against. He hadn't been great at the plate either, with just one hit on the season. Jonathan Davis is surely close to ready as he has been on a rehab assignment for two weeks now. Heck, I'd even recall Anthony Alford.
4. Mattt Shoemaker had his ACL surgery Tuesday in Florida. I fully expect him to come back strong next season. Had Shoemaker not been injured, it is likely he would have been the Blue Jays representative at the all Star game. Marcus Stroman or Eric Sogard will most likely now be the one who gets the nod. Sogard has been the Blue Jays best hitter since he was recalled three weeks ago. Also, Sogard has been versatile in the field, playing games at third base, shortstop, and this week at second base. Stroman is having the kind of season JA Happ had a year ago with consistently strong performers. He is the clear team ace, at least until July when he'll likely be dealt for assets.
5. Finally, Dalton Pompey visited a concussion specialist in Cleveland week. Pompey was injured towards the end of spring training after whacking his head in the dugout. I feel for him because I've had my own concussion issues in the past and know what a toll it takes on you physically, mentally, and emotionally. Brain injuries are unlike an injury such a broken bone, for example, where you know once the bone is healed in a month or two, you'll be back playing. Concussions can last anywhere from a few days to years. Justin Morneau was never the same after suffering a concussion sliding into second base. Even worse for Pompey is that his roster spot wasn't even guarantee this season. Pompey is quite low on the outfield depth chart.
6. It seems the sac bunt is going to be a contentious issue this season amount readers of this blog. However, you can't argue with a 7-0 record when a successful sac bunt is used. In Friday's opener, the games only run was a result of a sac bunt that forced a bad throw. It's clear the philosophy and approach at the plate had to change after an abysmal season where too many players were left in scoring position. To be sure, players need to read the defense when they are at the plate. Also, bunting with two strikes, as Danny Jansen did, is ill-advised because bunting the ball foul will result in an out. Also, fake bunts should be in the playbook too to keep the defense honest. As long as the pitcher bats in the NL, those teams will rank highest in the league for sac bunts. To me, is refreshing having a manager willing to try something one then knock the cover off the baseball every at best.
7. In an interesting decision, the Blue Jays are giving Lourdes Gurriel Jr. reps in the outfield. I think the reasoning behind this is two fold. First, Gurriel Jr. has struggled mightily throwing to second base. Second, the Socrates Brito experiment has been an unmitigated disaster and there aren't many viable options in the minors at the moment. If he does well this week, Gurriel Jr. could join the team on the next road trip.
8. There are plenty of rumors that the Blue Jays are looking to trade Aaron Sanchez, Marcus Stroman and Justin Smoak for assets. Stroman is the one who will probably get the most back in a trade. He is 28 years old and is having a bounce back season after an injury shortened year in 2018 due to separate shoulder and finger blister injuries. It's looking like he has put the health issues in the rear view mirror and in seven starts, he is 1-4 with a solid 2.20 ERA. He would have a better record, but lacks run support. Aaron Sanchez also has struggled for much of his career with injuries, mainly finger problems. Last year, in a bizarre incident, Sanchez got his finger caught in the zipper of his suitcase and damaged a tendon that would eventually require season ending surgery in September. Once again this season, Sanchez is continuing to deal with issues with his fingers. It seems to be the curve ball that is causing him to break his nails and get the blisters. Perhaps Sanchez may have to ditch the pitch. He has one year of arbitration eligibility left before he is a free agent. Justin Smoak may be moved simply due to age. He's 32 years old and in baseball, that's not young. Smoak is signed through this season and Rowdy Tellez should be ready to assume full time duty at first base, where he has been platooning with the Blue Jays veteran this season. As sad as it would be to see these three go, in baseball, you constantly need to be looking to get younger and to renew the roster.
9. Finally, check out the
power rankings
for week five. The Blue Jays sneaked in at #20. If they can have a good week at home vs. the Twins and White Sox, maybe they'll move up to the top 15 on that list.
10. Blue Jay of the week: Trent Thornton, who had a dominant 7 inning one hitter in Texas Friday. The embattled rookie deserved to have his first career win, but yet again the bats let him down and he got no run support.