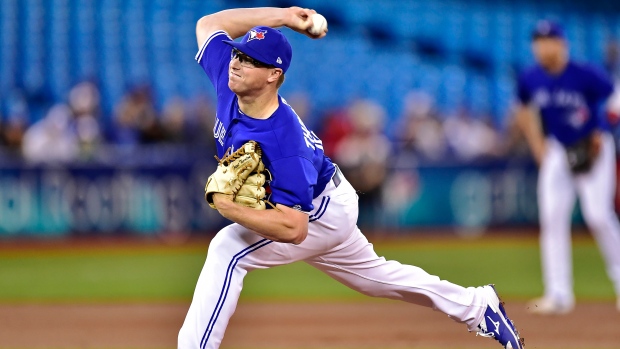 The Blue Jays had their first week where increment weather affected their games. Of course, the Blue Jays rarely have to worry about that happening, except for last year. This week saw Vladimir Guerrero Junior hit his first three career home runs, Trent Thornton finally notch his first career win (as well as his first 2 career hits and runs), and the Blue Jays put up a 10-spot for the second time this season. Looking at the week ahead, the Blue Jays come home for a stiff 4-game test against the World Series champs Boston Red Sox, who are starting to heat up after a tough start to the season. The Blue Jays will avoid facing ace Chris Sale, who started Sunday against Houston. However, Ex-Jay and Blue Jay killer David Price is looking on track to come off the injured list to start the series opener Monday. The Blue Jays will also play a three-game set against the San Diego Padres, who are currently 3rd in the NL West and very much in the wild card hunt. The Padres landed one of the most coveted free agents in the off-season, locking Manny Machado up for the next decade. Eric Hosmer, Will Myers, and Eric Hosmer are the other players Blue Jays pitchers will want to be careful with. Here are ten random thoughts from week 7 of the MLB.
1. It was unfortunately deja vu again for Aaron Sanchez, who
left Friday's start
after throwing 54 pitches with a blister problem. To me, Sanchez's comments after the latest blister issue were very telling. He mentioned that the finger he had surgery on after tearing a tendon getting the digit caught in a suitcase zipper had been bothering him in starts where he was pitching in cooler weather. He was also forced to leave starts early in Oakland and Minnesota. Perhaps Sanchez needs to find another method of staying warm in starts, like wearing a wool glove. It will definitely leave the Blue Jays in a tough spot if Sanchez is forced to miss time and be put on the IL. It would essentially leave Toronto with three healthy starters: Marcus Stroman, Trent Thornton and newcomer Edwin Jackson. I expect the Blue Jays to give Saturday's starter, Ryan Feierabend at least one more start, as the lefty knuckleballer showed promise in his rain-shortened outing. Although Feierband gave up 7 hits, most were weak contact and only one went over the wall for a home run.
2. The
update on Clay Buchholz
, who was scratched from a scheduled start last weekend, wasn't great. The veteran righty has been diagnosed with an upper back strain, and in particular to the teres major muscle, key in acceleration for pitchers. Buchholz is seeking the opinion of renowned surgeon Dr. James Andrew, and if surgery is recommended, he will be looking at missing months, rather than weeks and his season may be in jeopardy. The good news is David Phelps, recovering from Tommy John surgery in 2018, threw his third live batting practice over the weekend and is inching closer to starting a rehab assignment. Phelps has experience as a starting pitcher and could get a chance once he builds up his pitch count in the coming weeks. Clay Richards may be closer to returning, as he started his rehab assignment Saturday.
3. Another Blue Jay who has a string of bad injury luck is Devon Travis. The Blue Jays second baseman suffered a setback in his recovery from his latest knee surgery after experiencing soreness while ramping up his workouts. He will be shut down until the pain subsides and received a PRP injection to help reduce the inflammation. Travis very well might have played his last game as a Blue Jay. Unfortunately, several players have passed him on the depth chart. Eric Sogard will almost certainly be around a few more years, Freddy Galvis is likely to have his option for 2020 picked up at the end of the season. If Lourdes Gurriel Jr. can ever get his defensive yips figured out, he'll be an option at second base. Prospects Bo Bichette and Cavan Biggio are both expected to start their MLB careers either later this year or next year. I fully expect the Blue Jays to buy out Travis's contract at the end of the season, like they did with Tulo,
4. Teoscar Hernandez was optioned to AAA Buffalo in hopes of getting his swing back. He's batting .159 with an OPS (on-base%) of .262. He has struck out 42 times in 127AB. Hernandez's defense has been better this season. Although he has three errors, he also has three outfield assists and 2 double plays. I expect Hernandez to be back up later this season as depth in the outfield isn't as deep. The Blue Jays recalled Richard Urena to take Hernandez's roster spot. In a dozen games, Urena was batting .303 through Friday's games in 12 games, 10 of them starts. As Urena is an infielder, the Blue Jays will go with Billy McKinney, Jonathan Davis and Randal Grichuk, with Brandon Drury getting the odd game to rest an outfielder.
5. I want to touch on the merits of making the game official after the 5th inning. Unfortunately, increment weather was prominent in Saturday's game. The White Sox grabbed an early lead with the Blue Jays tying the game the next inning. The White Sox subsequently scored two and one run in the 2nd and 3rd innings respectively. The weather was fine through the game's first 3 innings or so, then it started raining heavily in the top of the 5th. The home plate umpire allowed the top of the 5th to be played thus rendering the game official. After a three hour rain delay, the game was officially called due to more increment weather due. If you're a White Sox fan, you're happy because you won. However, how legit is the win? A regulation game is supposed to be nine innings and 27 outs (24 for the home side if they are leading after 8 innings). The Blue Jays had an opportunity to score in the 4th, and quite frankly the game should have gone into rain delay before the 5th inning started. How is it right to assume that the Blue Jays couldn't come back in the subsequent 4 innings? I think the rule needs to be changed so that all games that haven't had 9 innings completed are suspended. Games shouldn't be official until 27 outs are made. Suspended games should be completed the next day.
6. This is an interesting take
comparing the Baltimore Orioles
follies to that of the Blue Jays. A lot has been made this week in the recap and game threads about the struggles of the Blue Jays as a whole. There's no question that the Blue Jays, Marlins and Orioles are all a couple of years at least from contending. I think it's important to give fans hope during the down years. Also, prospects such as Vladimir Guerrero Jr. need to be in a winning environment or they will bolt for greener pastures the second they become free agents. Of the three franchises, I think the Blue Jays are probably in the best shape.
7. Here's a look back at one of the
more notorious trades in Blue Jays history
, and one that arguably put the Blue Jays over the top for their first World Series Championship. I was just starting to get into watching the Blue Jays around this time, so this was a big deal for me. Where does this rank among trades made in Blue Jays history? Discuss below.
8. Here's an article from
Blue Jays blog Jays Journal
examining the importance of pitching depth. The Blue Jays rotation has been hit pretty hard by injuries. David Phelps (recovering from 2018 TJ surgery) wasn't expected to be ready at the start of the season, and he's just now getting close to ready to start a rehab assignment. His pitch count and inning count will be restricted this season. Ryan Borucki injured his pitching elbow in spring training and isn't close to coming back. Matt Shoemaker tore his ACL in Oakland in April. Clay Buchholz injured the back of his pitching shoulder and is expected to miss weeks, if not months. Aaron Sanchez is having blister problems again. The Blue Jays have already used ten different starters: Marcus Stroman, Sanchez, Shoemaker, Trent Thornton, Buchholz, Thomas Pannone, Ryan Feierabend, Daniel Hudson, Edwin Jackson and Sean Reid-Foley. Unfortunately,, there aren't a ton of reliable options besides Stroman, Sanchez (when healthy). and Thornton. Shoemaker was excellent until he tore his ACL. Reid-Foley lasted just one start and it was ugly. Feierabend did enough to get another start, but the jury's still out on him. Sam Gaviglio and Pannone are both stretched out to pitch multiple innings, but neither has been reliable. Options in the minors aren't great either as the pitching staff has struggled all year in Buffalo. Last season, the Blue Jays used 12 different starters. They will likely match or exceed that number this season.
9. Finally, for all you Game of Thrones fans, here's a fun piece
portraying MLB managers
as Game of thrones characters. Have fun with it and let's see if we can portray some Blue Jays as GoT characters.
10. Blue Jay of the week: Trent Thornton. The Blue Jays rookie notched his first career win Tuesday in San Francisco. He also got his first 2 career hits and runs scored. This week, Thornton threw 11.2 innings, allowing 3 runs (all earned) on 6 hits while walking 6 batters and striking out 11. Honorable mention goes to Vlad who hit his first 4 career HR this week.