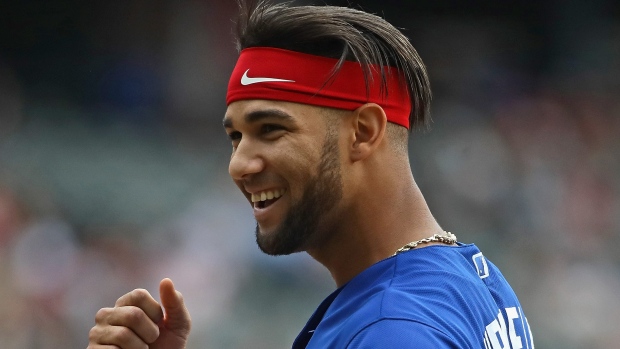 Lourdes Gurriel Jr. scored twice and drove in the other Blue Jays run on a 2-run HR as the Blue Jays fell 4-3 to the Rays in 11 innings
After dropping the first two games of the series, the Blue Jays were looking to avoid being swept by the Rays, who have had their number seemingly since they joined the league in 1998. Tonight saw the Blue Jays facing ace Blake Snell, while countering with rookie Trent Thornton. Both Vladimir Guerrero Jr. and Cavam Biggio were out of the lineup to start this one. After today's game, the Blue Jays will enjoy a day off in Colorado (and certainly a number of the team will take in the Toronto Raptors game.) The off day could not come at a better time with the team suffering from a virus making its way through the clubhouse and players banged up. The Blue Jays best rest up because they will go through a 15 day stretch between off days from June 11-26. Could the Blue Jays escape Tampa Bay with a win? Here is today's game recap.
Game Highlights:
The Blue Jays opened the scoring in the top of the 1st as Lourdes Gurriel Jr. cranked a 2-run blast to left also scoring Eric Sogard
Jonathan Davis came up with this incredible catch shades of KP
The Rays got one back in the bottom of the 3rd as Avisail Garcia singled home Austin Meadows
The Rays took the lead in the bottom of the 5th on a double by Brandon Lowe that scored Meadows and Tommy Phan
Trent Thornton pitching line: 4.2IP 7H 3R (all earned) 3BB 5K 97 pitches (58 for strikes)
Blake Snell pitching line: 6IP 6H 2R (both earned) 2BB 5K 87 pitches (54 for strikes)
The Blue Jays tied it in the top of the 8th as Justin Smoak singled scoring Gurriel Jr.
The Rays won it in the bottom of the 11th as Willy Adames singled home Andrew Velazquez
Final score: Rays 4 Blue Jays 3
My Take:
Trent Thornton battled his way through 4.2 innings, allowing a trio of runs on 6 hits and 3 walks. Thornton pitched his way in and out of trouble all night, save for the 4th inning when he sent the Rays down in order. He still needs to work on his command if he wants to be successful on a consistent basis.
The Blue Jays had their chances to win it late (bases loaded with no outs in the 8th, runners on the corners with one out in the 9th and runners on 1st and 2nd with no one out in the 11th) and failed miserably each time.
One player who probably doesn't want an off-day tomorrow is the red-hot Lourdes Gurriel Jr., who has been on a tear since being recalled a week ago.
The bullpen (except for Ken Giles who has barely had any work this month) is probably looking forward to a day off. They have been asked to pitch a ton the past 16 days due in part to early exits due to injury (Sanchez) and inefficiency. Luckily there is only a weekend series before a Monday off-day, followed by a six day stretch of games, an off day and another lengthy 15 day stretch.
Up next, after a sorely needed off day, the Blue Jays open a weekend series in Colorado. Edwin Jackson will be looking to redeem himself after an ugly outing that saw him cough up 7 runs on 7 hits and a walk over 4 innings vs. San Diego. The Rockies will counter with righty German Marquez, who can swing a bat (he drove in three runs in his last start).