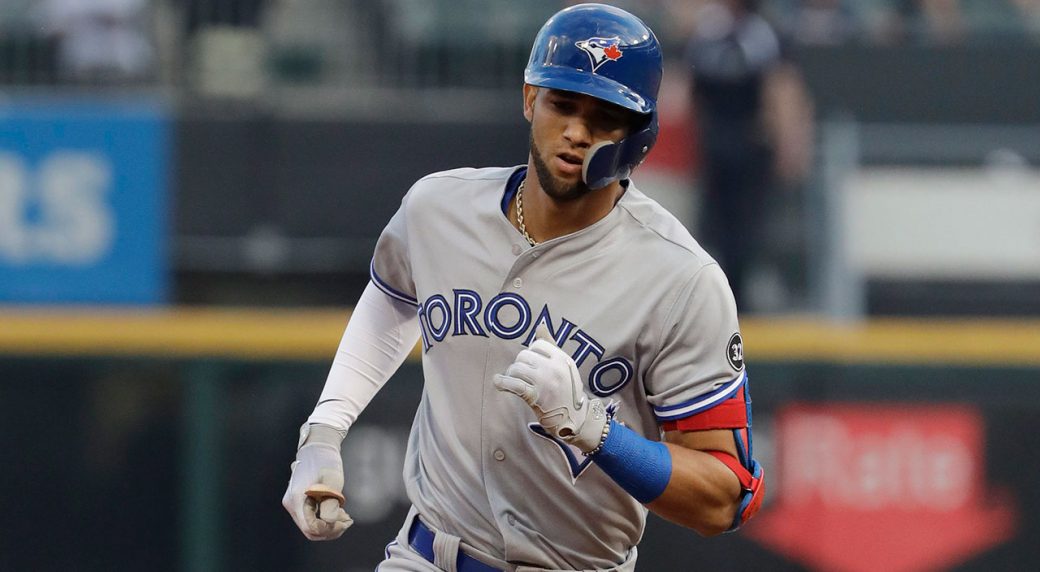 This week was a rough one all around. The Blue Jays got a big scare on Friday when Vladimir Guerrero Jr. was drilled on the left (glove) hand by a 96mph fastball. He ran the bases and played a half inning more before being pulled from the game for x-rays (more on that later). Ken Giles and Edwin Luciano became the latest pitchers to go down with elbow injuries (more on that later). The good part of the week was pummeling the Baltimore Orioles in two of three games. This week features a brief four game homestand against the LA Angels and Shohei Ohtani, who hit for the cycle this week. Albert Pujols is ten hits away from tying Tony Gwyn on the career hits list and with a strong series he could hit that milestone. Then the Blue Jays hit the road again, this time landing in Boston. The Red Sox and baseball community got a scare this week when David Ortiz was shot in an ambush in his home in the Dominican Republic (more on that later). The Red Sox on the field have slowly been rebounding from a rough start to the season. Here are ten random thoughts from week 11 of the MLB.
1. The scare of the week came Friday six pitches into the game when the Blue Jays best prospect, and arguably, the best player currently, Vladimir Guerrero Jr. was drilled in the left (glove) hand by Astros starter Garrett Cole with a 96MPH fastball. Guerrero Jr. ran the bases and took the field in the bottom half of the inning, but he was pulled from the game prior to the bottom of the 2nd when he was having issues closing his glove properly. X-rays were negative and Guerrero Jr. was not in the lineup Saturday, but was available to possibly pinch hit. Vlad was in the lineup Sunday as the DH, going 1-5 with a run scored. Guerrero Jr. has adjusted very nicely to big-league pitching, batting .266 with 7 HR and 19RBI in 41 games.
2. Another tough loss was closer Ken Giles, who was placed on the 10 day IL this week with elbow inflammation. He hasn't been pitching much this season because the Blue Jays haven't had a ton of close games in the 9th where they are leading. However, last week, he had to pitch in back to back games with the game on the line, throwing 46 stressful pitches. Pitching in a save situation where the game is on the line is much different than pitching with the result not in doubt, whether it be on the winning or losing side. Also, Giles has essentially been pitching once a week for the past 6 weeks, so back to back outings was a strain. Giles' absence could be a concern with respect to his trade value, especially if the injury persists and eventually needs surgery as Ryan Tepera did. In his absence, when a save situation arises the Blue Jays will likely use a closer by committee strategy. All five relievers who recorded a save last season are either on the IL or off the team (Tepera is recovering from elbow surgery, Seunghwan Oh is a Colorado Rockies reliever and currently on the IL himself, Tyler Clippard is an Indian, Roberto Osuna is an Astro). Joe Biagini, Tim Mayza and Daniel Hudson are three possible candidates to pitch in a save situation while Giles is out.
3. Another reliever who could miss considerable time is righty Elvis Luciano, who landed on the IL the same day as Giles. It's kind of ridiculous the number of pitchers who have had elbow problems this season. Ryan Borucki has yet to throw a pitch this season after he injured his elbow near the end of training camp. David Phelps was expected to miss the start of the season as he makes his way back from TJ surgery in 2018. Tepera had bone chips removed from his elbow to relieve an ulnar nerve issue. You have to wonder if something the high performance team is doing with the throwing programs is leading to the elbow problems. To have five pitchers all suffering elbow injuries is a high number. Are the pitchers using weighted balls in their workouts?
The use of weighted balls
has been a hot button issue in recent years. Luciano's absence should be less detrimental to the Blue Jays as he was being used in lower stress situations and pitched an inning at most.
4. Despite the two injuries to Giles and Luciano, there may be good news with a couple of arms looking close to ready to return from the IL. Phelps completed a pair of rehab relief appearances in Buffalo this week and threw a bullpen in Houston Saturday. The Blue Jays will likely wait until Monday or Tuesday, but if there are no setbacks, Phelps should make his Blue Jays debut this week. Expect him to appear in a low pressure situation, likely at the start of an inning. Reliever Jacob Waguespack, who made one appearance before landing on the IL with a shoulder strain, pitched 2 innings Sunday in Buffalo. Expect him to make another rehab appearance or two then be recalled.
5. As for the other injured Blue Jays, Ryan Borucki threw to live hitters in batting practice Saturday in Florida, He's still a few weeks from starting a rehab assignment. Clay Buchholz is working his way through a strengthening program with no issues thus far. Dalton Pompey is doing baseball activity and will be re-evaluated this week He should get an opportunity in the outfield when healthy again. Devon Travis is progressing with lower body strength training but is not doing any baseball activities. I still think his time as a Blue Jay may be over (the infield is too crowded.)
6. In other news, ex-Red Sox slugger
David Ortiz
was shot in the back in an ambush in his homeland of the Dominican Republic. He had his galbladder and part of his intestine removed and damaged part of his liver. Big Papi finished his illustrious career batting .286 with 541HR and 1768RBI. Here's hoping he makes a full recovery
7. On Saturday, the Seattle Mariners dealt ex-Blue Jays DH/1B Edwin Encarnacion to the NY Yankees, where he joins JA Happ, Troy Tulowitzki, Gio Urshela and Kendrys Morales as ex-Blue Jays playing for the Yankees. In 8 seasons with the Blue Jays, Encarnacion batted .268 with 239HR and 679RBI. He's having a resurgent season, leading the AL with 21HR. The Blue Jays will face him in NY in a week. He won't be in Toronto until August 8-11. It's sad for me to see the demise of the Seattle Mariners. They are my second team and the team that is closest geographically to where I live. Hopefully they improve as the Blue Jays should in the next several seasons.
8. An
MLB record was broken
on Sunday when Rockies RF Charlie Blackmon collected his 15th hit Sunday to break the record for most hits in a four game series by a single player.
9. Finally, a big happy Father's day to all you JITHers. Enjoy your day (and yes being a pet owner counts!)
10. Blue Jay of the week: Lourdes Gurriel Jr. who went 8-26 with 9RBI and 5 runs scored. He also made some great plays in the outfield.