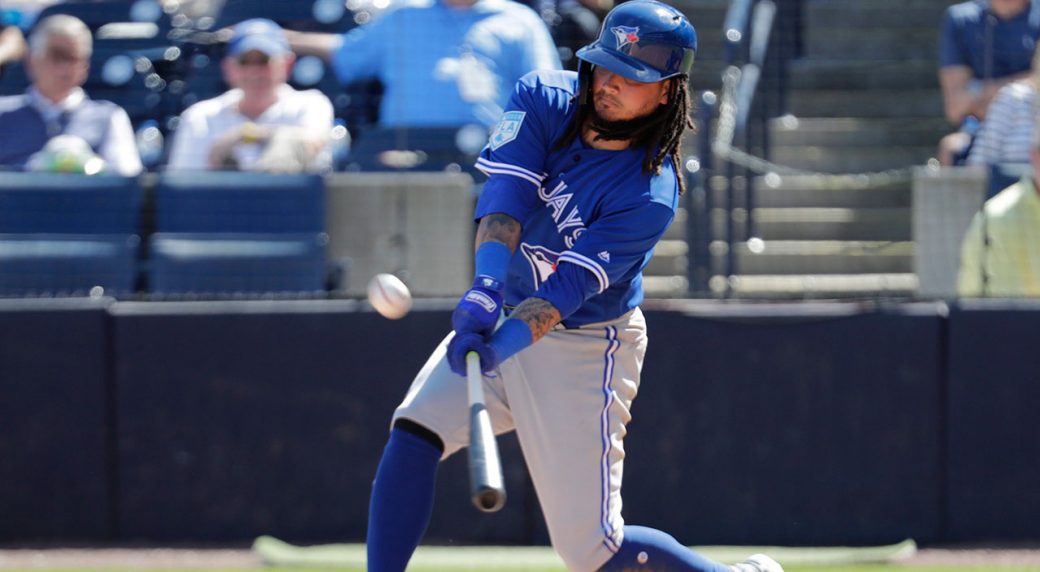 Freddy Galvis hit a grand slam in a losing effort as the Yankees held on for a 10-8 victory over the Blue Jays
Vlad and Cavan both added Yankee Stadium to their repertoire of MLB ballparks to become familiar with in their rookie campaigns. CC Sabathia faced the Blue Jays for one of the final times of his illustrious career that will come to an end at the end of the season. Luke Maile got the start behind the plate, catching Aaron Sanchez, who is attempting to ressurect a a disastrous season that has been derailed by several starts where he has been forced to leave early with blister problems and broken nails. Could the Blue Jays make it three in a row vs. division rivals? Here is today's game recap.
Game Highlights:
The Blue Jays opened the scoring in the top of the 1st as Vladimir Guerrero Jr. doubled home Eric Sogard
Four batters later, Rowdy Tellez doubled home Guerrero Jr.
The Yankees took the lead in the bottom of the 5th as Aaron Hicks clubbed a three-run jack to right also scoring DJ LeMahieu and Luke Volt
The Yankees added a run in the bottom of the 6th as Gio Urshela singled home Didi Gregorius
A batter later, Gleyber Torres scored on a fielder's choice hit by Brett Gardner
Two batters later, Volt doubled home Gardner
Aaron Sanchez pitching line: 5.1IP 9H 7R (all earned) 3BB 4K 104 pitches (67 for strikes)
Three batters later, Gioncarlo Stanton smashed a three-run bomb to dead center also scoring Volt and Aaron Hicks
CC Sabathia pitching line: 6IP 6H 2R (both earned) 2BB 9K 104 pitches (64 for strikes)
The Blue Jays got one back in the top of the 8th as Lourdes Gurriel Jr. smacked a solo shot to left-center
Four batters later, Freddy Galvis smashed a grand slam to right also scoring Cavan Biggio, Randal Grichuk and Tellez
The Blue Jays got one back in the top of the 9th on a sac fly vt
Aroldis Chapman pitched the 9th for his 22nd save of the season
Final score: Yankees 10 Blue Jays 8
My Take:
Both Aaron Sanchez and CC Sabathia pitched into the 6th inning (the Yankees big lefty ended his night and the 6th inning on a high; whereas Sanchez managed to get just one out in the 6th and he saw his inherited runner come around to score). Actually, Sanchez cruised through the first four innings, walking 3 and allowing a pair of hits. However, in the 5th and 6th, things fell apart in a New York minute. In the 5th and 6th innings combined, Sanchez allowed 7 runs on 8 hits (last one was surrendered by reliever Derek Law). He certainly seemed rattled after having two balls hit hard off him. He'll be bruised tomorrow.
The Blue Jays had a big inning of their own in the 8th with a five run inning capped off by a Freddy Galvis grand slam. They got one off of Aroldis Chapman in the 9th, but 3 runs behind was as close as they would come on this night
Vladimir Guerrero Jr. (3-5, 1 run scored, 1 RBI), Lourdes Gurriel Jr. (2-5, 1 run scored, 1 RBI), Randal Grichuk (3-5, 2 runs scored), Rowdy Tellez (2-4, a run scored, 2 RBI) and Galvis (grand slam) all has strong nights at the plate
Billy McKinney and Luke Maile were the only two Blue Jays not to reach base at least once
SRF didn't have a great night in his return to the majors after being banished to the minors after his opening week disaster, tossing 2 innings, allowing a pair of hits and walking 3. He'll likely get another chance, given the Blue Jays limited options to pitch.
Up next, the Blue Jays try to even the series at 1, as lefty Clayton Richard pitches against an unknown Yankees starter, likely to be an opener.