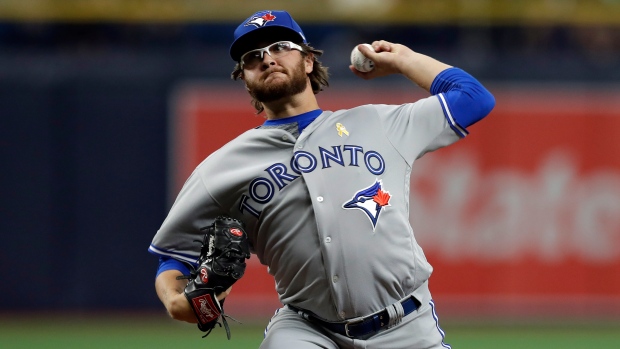 It was a tough start to the final month of the 2019 season for the Blue Jays who lost their first five games of the month. The month start with a sweep by the Atlanta Braves. Josh Donaldson had a huge role in both games, going a combined 3-6 with 4 runs scored and 2RBI. The ex-Blue Jays slugger has made a huge comeback and has appear to put his troublesome calf behind him. Dosh is hitting a respectable .262 after Sunday's games with 36HR (he hit his 34th against the Blue Jays) and 85RBI in 493AB over 140 games. Canadian righty Mike Soroka threw 5 innings in the mini series opener to pick up the win Monday. The Blue Jays then moved onto their little house of horrors where they were swept in the four game series by the TB Rays. There was one positive in Anthony Kay (more on that later). Looking at the week ahead, it promises to be 6 tough games starting with three against the Boston Red Sox, who's World Series defense is all but certainly going to end with a playoff miss. Their ace Chris Sale is done for the season with left elbow inflammation.Ex-Blue Jay David Price has been battling a sore left wrist for the past several weeks, Steve Pearce (another ex-Blue Jay) may also be done with a knee injury. Dustin Pedroia is done for the year and his career may be nearly done too with knee trouble. Even not at their strongest, the Red Sox will be a tough test for Blue Jays pitchers and batters.
The Blue Jays wrap up the week and homestand with a weekend series against the likely AL East Champs NY Yankees. The Bronx bombers have been gettng the most out of one of the weaker teams they have fielded. The Yankees have been decimated with injuries to their stars all year. Luis Severino (rotator cuff and lat strains) and Dellin Betances (shoulder, right lat) have yet to throw a pitch at the big league level (although both are on rehab assignments). Miguel Andujar had all of 47AB before season-ending shoulder surgery. Reliever David Hale made 19 appearances before a severe lumbar spine sprain. Jacoby Ellsbury hasn't picked up a baseball after August 2018 hip surgery. Greg Bird tore his left plantar fascia and has played all but ten games. That's one more game than Giancarlo Stanton who rehabbed a shoulder injury for 6 weeks, came back and played 6 games only to tear his PCL sliding into third base against the Blue Jays. With both the Red Sox and Yankees having something to play for, it's very possible the Blue Jays could still be 0-September in a week. Here are 10 random thoughts from week 23 of the MLB.
1. In a bad week you have to grasp at straws or look at the good performances of the week and Anthony Kay provided that on Saturday, firing 5.2 innings, allowing a pair of runs on 4 hits while walking 3 and striking out 8. When he left the game, he was in line for the win. However, the bullpen blew the lead. If this pitching line sounds familiar, it should.
Ricky Romero
had a very similar pitching debut in his big league debut. Anthony Kay's repertoire of pitches is a bit different (he throws a bit harder for one thing), but I'll take it if his career path is similar to Romero's (or at least the first three seasons where the ex-Blue Jays southpaw was over .500 for his first three seasons before going downhill in 2012 and 2013. Kay will face a stiffer test vs. the Yankees later this week.
2. As the days get shorter and the 2019 season enters the final home stretch, managing playing time will be a factor. This will be the final season where rosters expand to the full 40 man roster. Starting next September, teams will only be able to add an extra three players to make 28 on the active roster for the final month. The current 25 man roster will be in play March-August 31. With that in mind, the Blue Jays should be tilting the playing time in favor of the bubble players on the roster, such as Jonathan Davis, Antony Alford, Billy McKinney, Rowdy Tellez and Reese McGuire behind the plate. Veterans such as Justin Smoak and Randal Grichuk should receive limited playing time, certainly not every day. There has been no chance of making the playoffs for some time now. The remainder of the season should be about getting the prospects playing time and seeing what you got with the pitching staff. At this point, only Trent Thornton and Jacob Waguespack look like they will be in the starting rotation next year.
3. The Blue Jays are sadly on pace to do something they've only done 3 times in their franchise history: lose 100 games. After Sunday's loss, they are at 55-89 on the season. They must go 8-10 in their final 18 games to avoid this dubious mark. Their first three seasons of existence, the Blue Jays finished with records of 54-107, 59-102 and 53-109. The remaining schedule includes home and homes with the Yankees and Orioles and single 3-game series against the Red Sox and Rays (to close out the series). The Red Sox will be in big time desperation mode with them 8 games back of the Oakland A's after Sunday's games. The Yankees will be playing for home field advantage and the Wild card race will all but certainly come down to the final weekend. Even the Orioles have been tough for the Blue Jays this season (the Orioles have won 7 of the 13 mes to date, despite being outscored 66-53 by the Blue Jays. Realistically, I think the Blue Jays will win 4-6 of the remaining games, making it the 4th time they will have hit the century mark in losses.
4. Ex-Blue Jay
Aaron Sanchez saw his 2019 season end a month early
after undergoing season-ending right shoulder surgery. He finished the season with a career worst 3-14 record and a 5.89 ERA in 27 starts, with all 14 losses coming as a Blue Jay. Walks were a big issue for the veteran righty, who walked a career-high 68 batters this season. The lack of command can likely be mostly attributed to having to adjust his grip and pitching style to avoid blisters. He was also pitching through pain in the finger he had surgery on in 2018. If there's any team that can turn Sanchez's career around it's the Astros, who turned Dallas Kuechel, Charlie Morton, Justin Verlander and Garrett Cole into solid starters. The first step for Sanchez is to get healthy/
5. Another ex-Blue Jay having a rough week is Eric Sogard, who was
hit in the face
by a fastball. On Saturday he returned, only to foul a ball off his foot and leave after 3 innings. X-rays were negative, but Sogard did not play Sunday. Expect the Rays to exercise caution with the veteran utility infielder. Sogard is batting .287 with 3HR and 10 RBI in 101 AB over 32 games since the trade to TB.
6. Now let's continue with looking at the present and future of the Blue Jays by position. Two weeks ago, I analyzed the
starting pitchers
(see point 9). Last week, I analyzed the
relievers, catcher and first basemen
(see points 6-8). This week I'll examine the remaining three infield positions and next week I'll look at the outfield positions. Let's begin at 2B. Heading into the season, It was expected that Devon Travis would get the bulk of the playing time at this position. However, he had season-ending knee surgery and his season was done before it started. Travis tried to ramp up his baseball activity at the 6-week mark, but was quickly shut down again after experiencing soreness. Since then, Travis has been focused on lower body exercises and has never progressed to baseball activities. Freddy Galvis (5 games, 4 starts), Eric Sogard (43 games, 40 starts), Cavan Biggio (68 games, 67 starts), Brandon Drury (15 games, 11 starts), Lourdes Gurriel Jr. (9 games), Alen Hanson (8 games, 6 starts; was DFA'd August 2) and Richard Urena (9 games, 7 starts) have all played at least 1 game at 2B. Sogard (trade to TB July 28th) and Galvis (picked up on waivers by the Cincinnati Reds August 12) are no longer with the team and almost certainly won't be signing with the Blue Jays next year as both have earned big raises. Gurriel Jr. was converted to the outfield after two critical throwing errors in the same game led directly to runs. Since getting called up to the bigs, Biggio has gotten the bulk of the games at second base. He's committed 4 errors, has 165 assists and been part of 37DP. He's batting .207 with 12HR and 35RBI in 290AB. Drury has 1 error, 28 assists and been part of 8DP. He's batting .220 with 14HR and 40RBI in 381AB, including Sunday. Urena has 12 assists, 0 errors and has been part of 1DP, including Sunday. He is batting .227 with 0HR or RBI in 44AB, including Sunday. Next year, assuming all stays the same, Biggio should get the bulk of the games at 2B with Drury as backup. I will look at free agency and trades in 2 weeks.
7. Moving onto SS where Urena (4 games, 3 starts), Sogard (4 games, 3 starts), Galvis (103 games, 102 starts), Drury (4 games, 2 starts) and Bo Bichette (34 games, including Sunday) have started at least one game. Galvis had 6 errors, 284 assists and was part of 63DP before being claimed by the Reds. He batted .267 with 18HR and 54RBI in 450AB as a Blue Jay. Sogard made one error and had 4 assists in the 4 games he was at SS. Sogard batted .300 with 10HR and 30RBI in 287AB over 73 games as a Blue Jay. Urena has 0 errors, 10 assists and has been part of 1DP as a SS (see last point for offensive stats). Drury has 0 errors, 7 assists and has not been part of a DP at SS. (see last point for offensive stats). Bo Bichette has had good and bad moments at SS. He has committed 5 errors, 49PO, 91 assists and been part of 21DP, including Sunday. He's batting .311 with 10HR and 17RBI in 161AB, including Sunday. Bo Bichette should start the bulk of the games at SS. He's gotten off to the best start of all the Blue Jays batters to make their MLB debut. He has shown a penchant for adjusting well to pitches and not overdoing it at the plate. My one criticism is he could be a bit more selective at times and accept the walk.
8. Finally, we'll look at the hot corner, which has seen some stability with the emergence of Vlad. Guerrero Jr. (85 games, 83 starts), Drury (59 games, 53 starts), Urena (4 games, 3 starts), and Sogard (7 games, 5 starts) have all played at least one game at 3B this season. Sogard has 0 errors, 10 assists and was part of 3DP at 3B this season (see point 7 for his offensive stats). Urena has 0 errors, 10 assists and been part of 1DP (see point 6 for his offensive stats). Drury has made 3 errors, has 93 assists and has been part of 7DP, including Sunday (see point 6 for his offensive stats). Like Bichette and Biggio, Vlad has had good and bad moments defensively. He has 16 errors, 154 assists and has been part of 18DP. The Blue Jays have needed to be patient and accept the errors with Vlad. At the Plate, Vlad is batting .276 with 15HR and 61RBI in 402AB, including Sunday. It's prudent that Vlad try to cut down on his weight to stay healthy. He missed a couple of games already with knee issues. Vlad must also cut down on his swing, especially with 2 strikes. You don't need to hit a HR every AB. By being more selective at the plate, he'll cut down on the strikeouts (77, including Sunday) and increase the walks (45 after Sunday). Vlad should get the bulk of the games at 3B, with the aim of playing 4-5 days at 3B in a given week with Brandon Drury playing the other games (or possible trade or free agent acquisition)
9. Let's end things off this week looking at the current playoff picture. Five of the six division races are essentially over with the NY Yankees (8.5 game lead over the TB Rays), Minnesota Twins (5.5 game lead over the Cleveland Indians), Houston Astros (9.5 game lead over the Oakland A's), Atlanta Braves (9 game lead over the Washington Nationals), and LA Dodgers (17 game lead over the Arizona Diamondbacks) all having basically locked up the division titles. Both the Indians and Twins should make the playoffs with both clubs having the lightest schedules remaining owing to the weak AL Central division. The NL Wild Card race is packed with 4 teams within four games or less of the Chicago Cubs, who currently have a 1.5 game lead over the Diamondbacks, 2 game leads over the Brewers and Phillies and 4 games over the NY Mets for the 2nd WC spot. The Nationals are three games clear of the Cubs for the 1st WC spot and home field advantage in the 1-off game. MLB still lists the Giants as being in the WC race, but they are currently 7.5 games back of the 2nd WC spot and there are too many teams to leap frog. The St. Louis Cardinals are starting to pull away in the NL Central race with a 4.5 game lead over the Cubs and 6.5 games over the Brewers. The AL WC race is officially down to three teams as the MLB removed the Red Sox from the race after Sunday's loss to the Yankees. I still think Boston will be playing desperate baseball this week and will field their best lineup, at least for the series in Toronto. TB currently has a one-game lead over the Oakland A's for the 1st WC spot and a huge advantage as their dome is a nightmare for fielders to play in. Oakland has a 1.5 game lead over the Indians for the 2nd WC race, which will almost definitely come down to the last weekend of the season. Stay tuned because a few races could see teams leap frogging each other.
10. Blue Jay of the week: Anthony Kay, who provided the Blue Jays faithful with a sliver of hope for next year with a strong 5.2 inning performance. In a rough week like this one, you sometimes have to find good days by players and Kay was mostly solid against a tough Rays lineup