Thursday 19 September 2019 - 7:05 PM ET - Camden Yards
Wilmer Font (RHP 4-4 4.21 ERA 86 SO) v. Gabriel Ynoa (RHP 1-8 5.74 ERA 61 SO)
PREAMBLE
thoughts remain with Lunchbox and his family. yours are big shoes to fill, pal. all the best.
it's not enough that i got called into action yesterday but today, again, i find myself compelled to pick up the slack. Jesus, people: spare yourselves the horror of my bad luck / writing stylings. step up, you bastards! the Jays might never win another game, otherwise.
oh, and the Jays are shootin' for the sweep, with rookie Anthony Kay getting the ball after Font. against Baltimore, will it really matter? a sweep's a sweep, i guess, and -- like sex and pizza, perhaps -- any sweep beats no sweep at all. go get 'em, lads!
OF NOTE
both teams intend to deploy openers, seems (or, you know, there remains the possibility i wouldn't know Gabriel Ynoa to trip over him, which is altogether likely). back in my day, an opener was something used to remove the cap from the bottles of beer desperately needed after a hard day's work. that's the way it was and we LIKED it! ooooh, we loved it.
times change, however, and the opener has become a tried and true phenomenon in short order that doesn't appear set to go away anytime soon -- like nose rings, Uber Eats and toll roads, old timers will continue to suffer as the world steamrolls 'em into the foundation of the next highrise to shadow what was once their sunny property.
the good news? if you're into counting statistics, the likelihood the Jays lose one hundred games this year has dropped to just about zero. that's something, i suppose, except it shouldn't matter. if the FO had stated this iteration of the Jays were expected to contend and lost one hundred games, on the other hand, well, that'd be newsworthy.
like my good friend Kurt Vonnegut once said to me, name-dropping is gauche. so it goes.
LINEUPS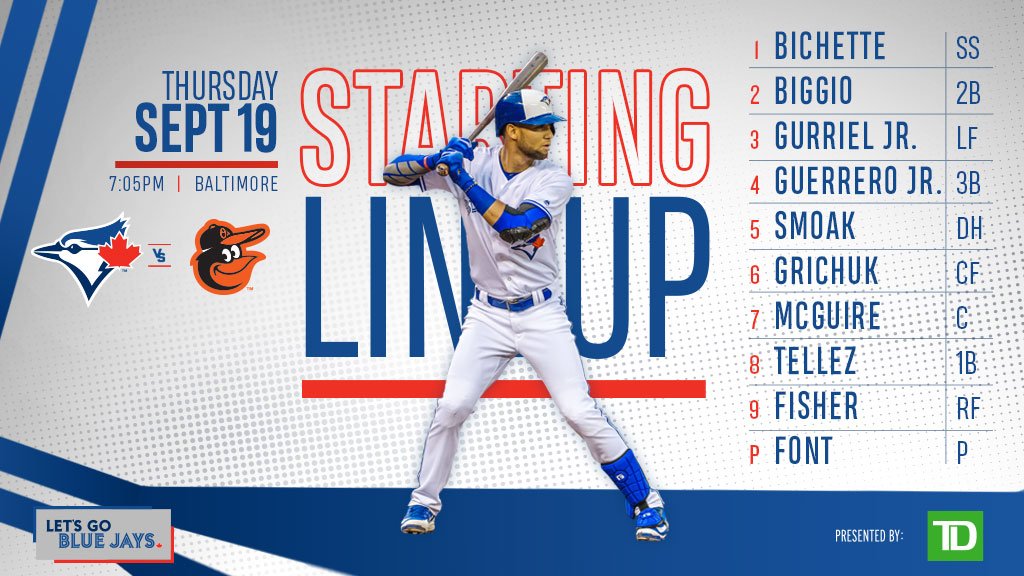 and, of course, the Baltimore Orioles:
J Villar (S) SS
H Alberto (R) 2B
T Mancini (R) RF
A Santander (S) LF
R Núñez (R) 1B
M Trumbo (R) DH
A Hays (R) CF
R Ruiz (L) 3B
A Wynns (R) C
This is your
GAME THREAD
: "Day Two Without Papaya? C'Mon!" Edition.