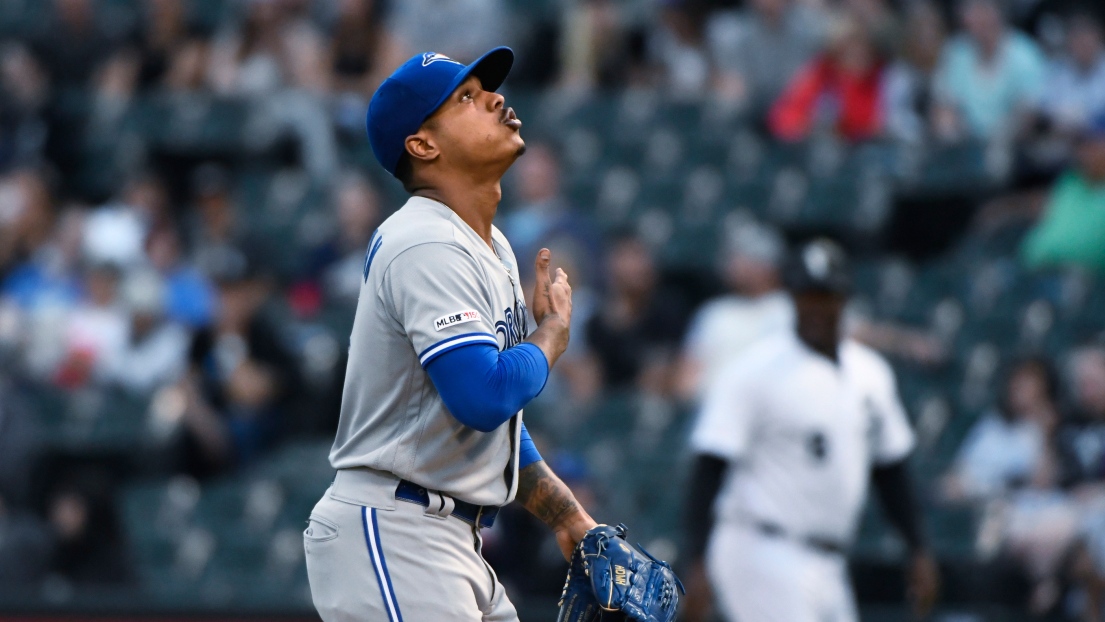 This week was chalk full of emotional stuff. Marcus Stroman made what could have been his final start in a Blue Jays uniform (more on that later). On Sunday, the late and former Blue Jays ace Roy "Doc" Halladay was inducted into the Baseball Hall of Fame, along with legendary closer Mariano Rivera, Seattle Mariners DH Edgar Martinez and ex-Orioles and Yankees starter Mike Mussina (more on that later). Results on the field were mixed this week. The Blue Jays dropped 3 of 4 to the Red Sox. The low point of the week was Thursday when Boston ace Chris Sale demolished the Blue Jays lineup, allowing just two hits and two walks while striking out 12 in 6 dominant shutout innings. Trent Thornton had the worst outing of his young career in the opening game this week, getting yanked after just 1.1 innings having allowed 5 runs on 5 hits and 3 walks. The Blue Jays offence gave some hope for the fans, striking late three times this week (only one resulted in a win). On Friday, the Blue Jays offence tore apart Tigers pitching, batting around in both the 4th and 6th innings for a combined 9 runs on 10 hits, 4 walks and a wild pitch in those two innings alone. The Blue Jays would go on to rout the Tigers in that inning. Saturday was a different story as Daniel Norris had a strong outing against his former team and Trent Thornton continued to struggle. Luckily, mother nature got Thornton off the hook after an hour long rain delay Looking at the week ahead, the Blue Jays start a week long homestand, welcoming the Cleveland Indians and Tampa Bay Rays to town. Stroman could make one last home start Wednesday, provided a trade isn't completed or imminent. The Blue Jays have an off day Thursday they best use wisely because starting next Friday, they begin their longest stretch of games between off-days, a marathon 20-day stretch that ends August 14th. Here are ten random thoughts from week 16 of the MLB.
1. Monday is going to be an interesting day for the Toronto Blue Jays. Hat-tip to BoJack for the info, by the way. Dalton Pompey is finished his allotted rehab time as of Monday and he is out of options in the minors, as he was on the roster prior to being placed on the 60 day IL. The Blue Jays have three options: they can release Pompey, they can DFA Pompey or they can recall Pompey. If you asked me in the beginning of the season what the Blue Jays were likely to do, I would have said Pompey would be DFA'd. However, Teoscar Hernandez, at least until recently, was having a terrible time at the plate. Billy McKinney has also not exactly separated himself from the pack. I think it's likely the Blue Jays will and should give Pompey another opportunity to prove his worth. The Canadian outfielder has a career average of .221 with 3HR and 10RBI in 145 AB over 4 seasons and 64 games with the Blue Jays. Last season, he had 2 hits in 10AB, but struck out 6 times. If he is recalled Monday, it will surely be his final kick at the can as a Blue Jay.
2. Also on Monday, lefty Ryan Borucki is expected to be activated off the 60 day IL after missing the first 3 months of the season with elbow inflammation. With Stroman expected to be dealt in the coming days, it is important that the Blue Jays find reliable starters who can eat up innings. You can't have the Blue Jays having bullpen days with three of the five starters. Aaron Sanchez has been having a terrible season and can't seem to get through a lineup more than once or twice in a ball game. Trent Thornton has show signs that he is tiring and may be nearing an innings limit. Borucki was 4-6 with a 3.87ERA in 17 starts last season. Here's hoping he can put up similar numbers as he begins his sophomore season.
3. If it was indeed Stroman's last game in a Blue Jays uniform one Friday, he gave the fans watching a gem. Stroman was absolutely masterful against one of the weaker lineups in the game. He kept the Tigers hitters off balance all night by altering the timing of his delivery by holding his stance a little longer or shorter when throwing a pitch with no runners on base. I am torn a bit on whether Stroman should be allowed to pitch his next start. On the one hand, it would be a nice gesture to let him pitch in front of the home crowd one last time. On the other hand, letting him pitch increases the risk of an injury occurring, whether it be a reaggravation of the pec injury that forced him to miss his final start before the all-star break and the all-star game itself, or a new injury. Also, teams know what they are going to get with Stroman after 800+ innings of experience under his belt. Then again, another gem like Friday could bring back a bigger haul in the inevitable trade. No doubt Stroman would be jacked up to give the fans one last gem. In all likelihood, Stroman will get one more start at home, and likely be skipped in the next start if he is still a Blue Jay.
4. Then there's Ken Giles, who has not been utilized heavily at all because the Blue Jays haven't been in a save situation often this season. I would like to see the Blue Jays use Giles a few times this week to prove to teams that he can pitch multiple days in a row. Whoever trades for him will be needing him to be able to pitch a few times a week at minimum as they battle for a playoff spot or home field advantage. Also, there is concern about the health of Giles, who missed time on this road trip with nerve inflammation from a freak massage accident. If nothing else, using Giles more often this week would increase the trade value simply because he won't be rusty when he's moved.
5. The Blue Jays did make a move this week, acquiring righty Wilmer Font from the NY Mets for cash considerations. The Blue Jays will be Font's third MLB team this season, which may be a bit of a red flag. Prior to the trade to Toronto, Font was 2-2 with an ERA around 5.00 split between the Mets and Rays. Font made his Blue Jays debut Saturday, throwing 2 innings, giving up a 2-run HR and striking out 4 Tigers batters. Font came into the game in a less than ideal spot. When the game went into an hour long rain delay, Blue Jays starter Trent Thornton had a 2-1 count on Jeimer Candelario, who was charged to Thornton when he walked. After striking out the next two batters, Font gave up a 2-run HR, followed by a single. He then retired the next four batters. Charlie Morton said that Font will be used in long relief. Based on Saturday's outing, Font could be a solid addition to the bullpen.
6. Vladimir Guerrero Jr. hit his first career grand slam Saturday, becoming the 4th Blue Jays rookie to hit a grand slam this season. This ties an MLB record for most rookies on one team hitting a grand slam in a single season. Bo Bichette should make his MLB debut as a September call-up at latest, and possibly sooner if Sogard and/or Galvis get moved at the deadline. I can see Bichette breaking the record.
7. Let's talk about the late Roy Halladay, who entered the hall of fame Sunday, not wearing either the logo or The Blue Jays, who he spent 12 seasons with, or the Philadephia Phillies, where he threw a perfect game and dominated in the world series. Halladay's career is remarkable considering his path to the MLB. He was drafted by the Blue jays 17th overall in the 1995 MLB amateur draft. Halladay made his MLB debut three years later on Srptember 20th. Following an awful 2000 season where he was 4-7 with a 10.64ERA over 19 appearances (13 starts), Halladay was demoted all the way back to single-A to rebuild his delivery. As they say, the rest is history. His illustrious 16 year career, Hal1laday was an 8-time all-star, 2-time Cy Young winner (2003 and 2010), led the majors in wins twice (2003 and 2010), threw a perfect game (May 29, 2010) and threw a no-hitter in the playoff (October 6, 2010). Check out some of
Halladay's best moments
as a Blue Jay.
8. All four inductees into the hall of fame this year played against each other a lot. Edgar Martinez, a lifelong Seattle Mariners DH is best remembered for this
key ALDS winning hit
. He finished his career with a .312 career average, 309HR and 1261RBI. Mariano Rivera was the top closer in MLB history, racking up 652 saves. Like Martinez, Rivera spent his entire career with one team, the NY Yankees. Here are some
career highlights
from the Yankees closer. Finally, there's Mike Mussina, who split his time between the Baltimore Orioles and the Yankees. Mussina had a career 270-153 record in 536 career regular season starts and a career 3.68ERA. Here's some
career highlights for Mussina
. Congratulations Mike Mussina, Roy Halladay, Mariano Rivera and Edgar Martinez, you all had incredible careers
9. Finally, check out the speech from
Halladay's late wife Brandy
, who did a wonderful job honoring her late husband. All the speeches were well done actually.
10. Blue Jay of the week: Marcus Stroman, who threw a 7-inning shutout gem, scattering 6 base hits and striking out.5. And just one of the 6 base hits was for extra bases (a double by JaCoby Jones). I think that Stroman is going to get one last start at home before he's shipped out. Fans are in for a treat Wednesday.