Tuesday, July 30, 2019 | 8:15 pm
Kauffman Stadium | Kansas City, Missouri
Sean Reid-Foley (RHP 0-1, 3.55 ERA, 1.34 WHIP)
vs
Mike Montgomery (LHP 1-3, 6.09 ERA, 1.76 WHIP)
Scuttlebutt!

The trade deadline is in 21 hours and it has been extremely quiet outside of the Blue Jays. Maybe Shatkins dont want to be stuck holding on to anyone when the bell rings. In case you missed it, the Jays made yet another trade today sending David Phelps and cash considerations to the Cubs in exchange for soon to be 25 year old RHP Thomas Hatch. Hatch is a former 3rd round pick of the Cubs who is struggling this year in his second go around in AA. It doesn't sound like he will amount to much at the big league level and Phelps has a team option for next year so I am not sure if the Jays won or lost this trade Decide for yourself!

In more horrible terrible no good very bad news for the Jays, Giles injury is worse than we thought, dropping his sky high trade value to now garbage juice. It looks like the Jays will have to hold on to him and hope to get something in the off season of value or they could try to extend him.

Ken Giles loves Toronto and showed interest in extension earlier. But he was told the timing not right. He just received a cortisone shot for elbow tho a 2nd MRI found no structural damage. @Ken_Rosenthal on that. He was prescribed rest for 48 hrs so timing not perfect for trades

— Jon Heyman (@JonHeyman) July 30, 2019
In some maybe good news for the Jays, it sounds like Smoak will be traded and that is likely why he is not in the lineup tonight. We may have seen the last of ol' smoakerson in a Jays uniform. 😢

The Justin Smoak market is starting to smoke. In addition to the Indians, @bnicholsonsmith mentions Rays. They are indeed interested as are the Phillies and 1 or 2 others. He'll likely move.

— Jon Heyman (@JonHeyman) July 30, 2019

OF NOTE!

No one wanted poor Pompey so he is back in AAA. Hopefully he does well for the rest of the season and can find a home in the off season. Also, SRF is up and starting! He may be bad but hope is exciting!
ROSTER MOVE: We've recalled RHP Sean Reid-Foley. He will start tonight's game.

Additionally, OF Dalton Pompey cleared waivers and has been assigned outright to the

@BuffaloBisons

.

pic.twitter.com/OB7opAuxTZ

— Toronto Blue Jays (@BlueJays) July 30, 2019
Happy SRF day! 👨🏻🙌

— Jordan Romano (@Gordondemand) July 30, 2019
and just so we have some Bo content every day
— Toronto Blue Jays (@BlueJays) July 29, 2019
LINEUPS!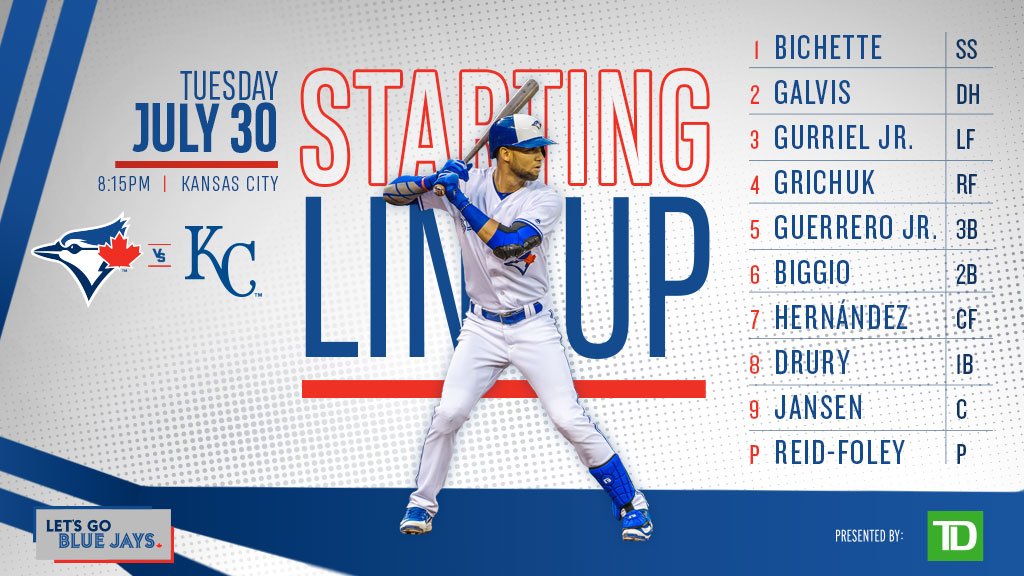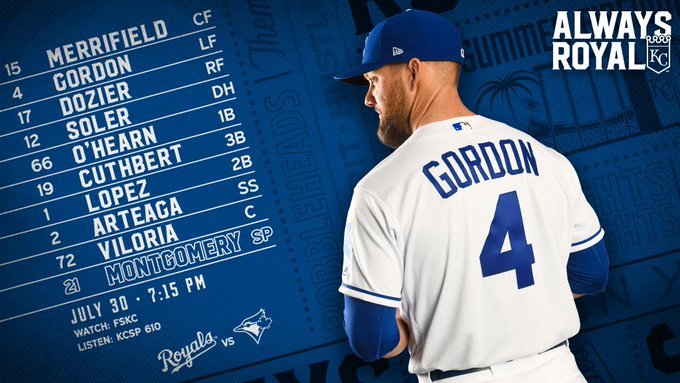 This is your "CORE 4!" game thread.