8:05PM EDT / Globe Life Park / Arlington, Texas
Marcus Stroman (RHP 0-0 7.20 8K 1.20) v. Mike Minor (LHP 0-1 3.86
5K 1.07)
PRE-AMBLE:
Sigh...we really take afternoon baseball for granted when we have games like tonight that are on at 8PM on a Saturday night. As most of you probably have friends or loved ones and want to experience all the world has to offer, I imagine it will be quiet in here tonight with me talking to myself as per usual.
In minor league news, the Bisons season opener has been postponed for the 2nd day in a row. They will hopefully open the season tomorrow with the big eared beauty Joe Biagini taking the mound. The Lugnuts (1-0) and Fishercats (2-0) are also undefeated this year, so things are looking bright for Blue Jays future. I have watched both Fishercats games and I must say everyone is looking great. Vlad and Bo have both looked good as expected, but watching live I must say Vlad's plate discipline really is crazy. In the first 2 games of the season he has walked 3 times and has not struck out. The most surprising Fishercat so far has been slightly less touted prospect Lourdes Gurriel Jr. While batting clean up for New Hampshire, he is batting .556 with 4 RBI in 2 games. As promised I will keep tabs on our petite leagues and post a recap when I can.

The talk of the league so far today has been this ejection of Anthony Rendon of the Nationals by home plate umpire Marty Foster. Take a look at the video below and let us know what you think...or what we should do about ump shows.
Ump Show! Rendon ejected for lightly tossing bat after K.
OF NOTE:
At game time today, it is expected to be 5°C in Arlington, with the temperatures dropping as the game progresses. This is significantly lower than the seasonal temperature of 22°C and much colder than yesterday where it was 18°C at game time. I expect the bats to cool off tonight (pun intended) with the cold weather and for Buck and Pat to mention that we are "locked in a pitching duel" about a dozen times.
As you can see in the lineup below, Dosh Jonaldson is at DH today. I imagine this is just to get Diaz into the lineup as he was hot before missing a few games, but what do I know. Our very own Dr. Wolf who has a PHD in Saturday Night Spanish Guitar Lessons notes that he is probably fine and is taking it slow. I don't know about you, but I trust a man with those credentials. Also of note, Kendrys "Morsel" Molasses is out of the lineup today. This shouldn't come has a huge surprise as he provides nothing with the glove and has looked sub-optimal at the plate so far this season. Now we just have to hope Grichuk can make a little bit of contact and we are looking good 1 through 9!

Key Matchup - Solar Flare vs. Salt n' Peppa
Solarte has 9 AB against Minor in his career. He is batting .571 with 1 HR and 7 RBI.
Toronto Blue Jays
LF Steve Pearce (L)
DHJosh Donaldson (R)
1B Justin Smoak (S)
3B Y. Solarte (S)
C Russell Martin (R)
CF Kevin Pillar (R)
SS Aledmys Diaz (R)
RF Randal Grichuk (R)
2B Devon Travis (R)
Texas Rangers
DH Shin-Soo Choo (L)
2B Rougned Odor (L)
SS Elvis Andrus (R)
RF Nomar Mazara (L)
1B Joey Gallo (L)
3B Jurickson Profar (S)
C Juan Centeno (L)
LF Ryan Rua (R)
CF Drew Robinson (L)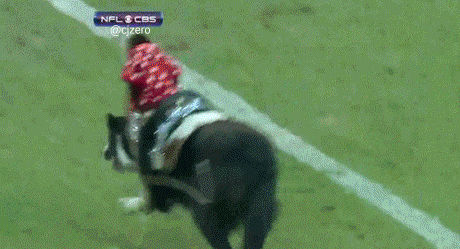 Here is a gif a monkey riding a dog.
This is your
GAME THREAD
: "Texas Toast" Edition.