8:05PM EDT / Globe Life Park / Arlington, Texas
Marco Estrada (RHP 0-0 3.68 2K 1.00) v. Matt Moore (LHP 0-1 9.00 6K 1.75)
PRE-AMBLE:
I have a good feeling about this series. Its the weekend, Jays just had a day off, its the first game of the season in nice weather, Morales is taking ground balls at 3rd.....wait what? Yes you read that right, our very own Kendrys Molasses is getting some work in at 3rd base as the Jays seemingly have too many players that they want to give rest at DH while still wanting Morsel in the lineup. A quick google search appears to show that he has never played a game at 3rd in his major league career, so jot me down as skeptical.
OF NOTE:
Kendrys Morales is 3-5 with a home run and a walk against today's starter Matt Moore, which may have been one of the reasons he was taking ground balls at 3rd this afternoon. The other reason being that maybe Gibby has started drinking a lot earlier than he normally does. Morsel's (sort of) 1B platoon-mate Justin Smoak continued where he left off in 2017 hitting .385 with 2 HR and 9 RBI through the first week of the season. Look for him to continue to mash this series. You also may want to keep a couple vomit bags within reach this weekend as garbage Odor will likely be prominent.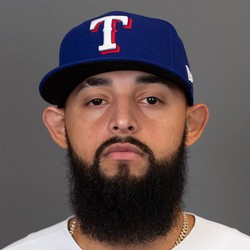 Toronto Blue Jays
LF Steve Pearce (L)
3B Josh Donaldson (R)
1B Justin Smoak (S)
SS Y. Solarte (S)
C Russell Martin (R)
DH Kendrys Morales (S)
CF Kevin Pillar (R)
RF Randal Grichuk (R)
2B Devon Travis (R)
Texas Rangers
DH Shin-Soo Choo (L)
1B Joey Gallo (L)
SS Elvis Andrus (R)
3B Adrian Beltre (R)
RF Nomar Mazara (L)
C Robinson Chirinos (R)
2B Rougned Odor (L)
LF Ryan Rua (R)
CF Drew Robinson (L)
This is your
GAME THREAD
: "Tasty Morsels" Edition.