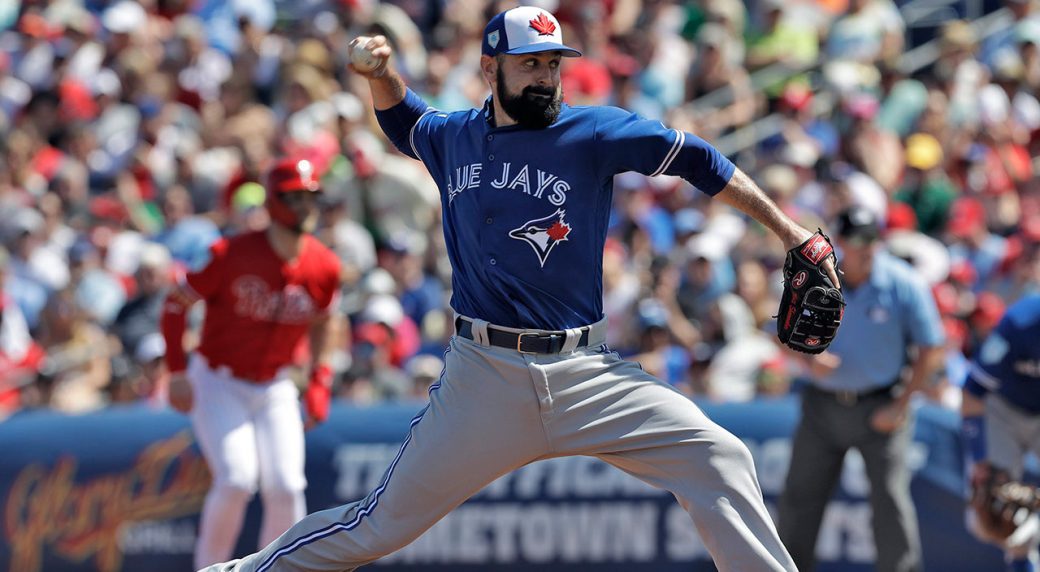 The first full week of baseball is now in the books. The Blue jays are on a record low pace offensively (51 hits through 9 games was 6 hits lower than in 1981 and 2017 when the blue jays managed 57 hits through nine games). The Blue Jays have been no-hit through at least 5 innings in 4 of the first 9 games, including taking until the 9th inning to get their first hit on Friday. Heck, they became only the 4th team ever in the history of the MLB to have four straight games of being struck out 13+ times. Thank god the pitching has been lights out. The starting pitchers had a 24 inning shutout streak through the first four starts until Sean Reid-Foley got lit up for 5 runs on 4 hits.. Marcus Stroman has rebounded nicely after a miserable start to 2018 that saw his ERA above 8.00 at one point. Stroman's still looking for his first win because he has gotten next to no run support in any of his starts.The Blue Jays may be breaking more dubious offensive records. Stay tuned. Here are ten random thoughts from week 2 of the MLB.
1. The big news of the week was Kevin Pillar was traded to the San Francisco Giants on Tuesday in exchange for a minor leaguer, infielder Alen Hanson and reliever Derek Law. In parts of 7 seasons, Pillar batted .260 with 55HR and 231 RBI. "Superman" dazzled fans in his time in Toronto with dazzling diving catches in the outfield. He only damaged his shoulder once on such a catch, missing six weeks after landing awkwardly on such a glorious catch. In 5 games with the Giants so far, Pillar has a pair of hits and a stolen base in 16 plate appearances. His defense has been perfect so far. Hanson has 1 hit in 8 AB, including 5 strikeouts. He's also been solid in the field. Pillar will make his return to the Rogers Center April 23-24 when he and the San Francisco Giants make a brief 2 day trip. I fully expect Pillar to receive a warm reception from the Blue Jays faithful. The attendance might be decent too.
2. The Blue Jays also made another trade Tuesday, acquiring speedster Socrates Brito from the San Diego Padres for a minor leaguer. Brito was acquired in the hopes of taking advantage of his speed game to incorporate a bunting strategy into the game and perhaps some base stealing. These are strategies that Charlie Montoya used in Tampa Bay, but has yet to be able to try with the struggling offence. In 11 plate appearances, Brito has gotten on base a grand total of one time, a walk Sunday and he has struck out 5 times. Brito batted leadoff in all three games he started.
3. In a case of bad luck, Clayton Richards was scratched prior to his first start of the season Monday with a stress reaction in his knee. He has been dealing with the injury for a couple of weeks now and the team opted to shut him down for a couple of weeks before re-evaluating him. In the interim, the Blue Jays have used Sean Reid-Foley and Thomas Pannone in the two spot starts. Neither pitcher lasted more than three innings. Could Sam Gaviglio get the next spot start?
4. Among the walking wounded is Justin Smoak, who has been dealing with neck stiffness this week. He was scratched from a start Sunday, but was available as a pinch hitter. Smoak is batting .200 with 1 HR and 4RBI. The veteran first baseman has also struck out 9 times in 30AB.
5. I want to discuss an issue that seems to come up every now and then. This week, Baltimore Orioles starter David Hess was cruising along with a no-hitter through 6 innings, but his pitch count was in the mid-70s. Hess got the first out in the 7th and was promptly pulled after reached a perceived pitch count of 80 pitches. This is BS. There is zero evidence that the higher the pitch count the greater chance of injury. Trevor Bauer was pulled after throwing 117 pitches, but he also walked 6 batters and hit another. At the rate he was going, he would have thrown 150+ pitches by the time the game ended. To me, pulling a pitcher in this situation should only occur if the pitch count is reaching 110 pitches. Back in the 80's and even the 90's starting pitchers regularly threw upwards of 120-130 pitches with no ill-effects. This trend of pitch counts really started with Stephen Strasburg when he was returning from TJ surgery. The no-hitter is going the way of the dinosaur sadly.
6. The umpires and replay officials got a call blatantly wrong and it nearly resulted in a loss (the Jays lost on a walk-off the next inning, but that's not the point). The MLB allowed instant replay to get these kinds of calls right. Had Ramirez scored in the inning and the Indians closed out the top of the 9th, the Blue Jays almost certainly would have officially played under protest.
7. Now to discuss the most troubling aspect of the Jays offense early on: the strikeouts. As mentioned, the Blue Jays became the 4th team ever to be struck out 13+ times four straight games. The Blue Jays have had poor approaches at the plate, swinging at bad pitches, not swinging at close third strikes. It's been everybody, up and down the lineup from rookies to veterans who have struggled mightily at the plate. If things don't turn around pretty quick, hitting coach Guillermo Martinez may be the scapegoat. I don't see Charlie Montoya being let go so soon into his tenure. Things do need to turn around, otherwise fans won't come back.
8. I have just complete my first week in the JITH fantasy league. This week I was matched against "Foul Balls" or Joe McD, a worthy opponent. We had a tight back and forth battle going all week. One day I had the lead, then he would flip a few categories and take the lead. The week ended in the best way possible, a draw. I had the edge in virtually every offensive category, and Foul Balls had the edge in the pitching categories. I have never participated in a fantasy league before, so it was a good first week for me to get a feel for how the scoring worked and also potentially strategy for future weeks. I regularly play beat the streak on MLB.com where one picks one or two players each day who you think will get a hit on that day. First to 56 hits wins the grand prize. If one picks two players, both must get a hit or your streak is over. I always pick 2 players to get me watching more baseball and it halves the time to get 56 games as each player counts as one game.
9. Finally, could Mike Trout be the player who breaks the elusive .400 batting average mark. He is off to a pretty
sick start to the season
. Part of what keeps me watching games is seeing long standing records fall and Trout is someone who I believe could do something big and break .400 this season.
10. Blue Jay of the week: Matt Shoemaker. The free agent signing has been one of the more impressive Blue Jays in the young season. Shoemaker threw seven strong innings of 2 hit ball with a walk and 8K's to lead the Blue Jays to their only victory this week.