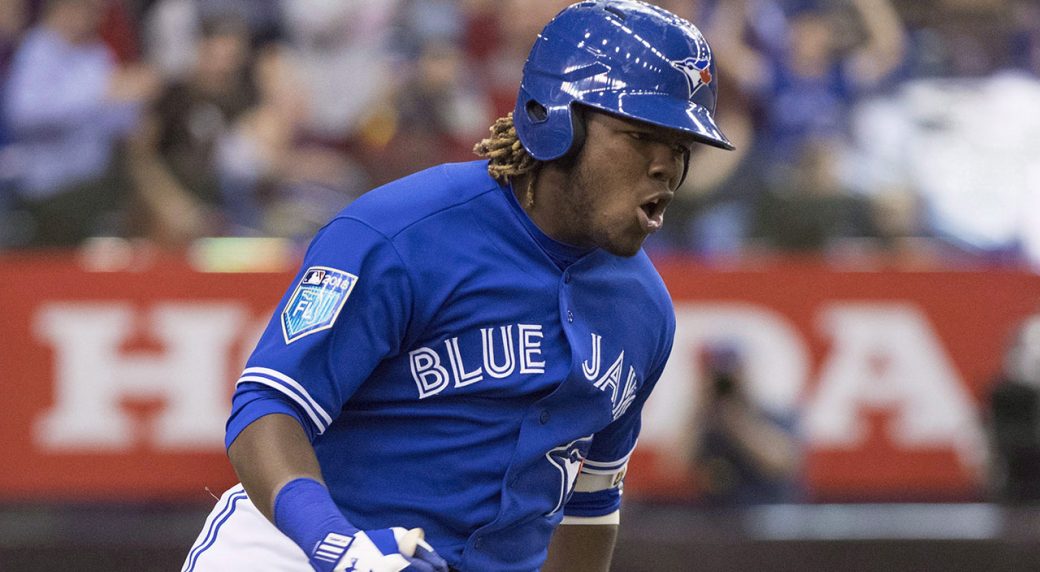 He's coming Friday and not a moment too soon after today's lackluster 4-0 loss to the Giants
This was officially the last game without Vladimir Guerrero Jr. in the lineup. Carlie Montoyo announced after the game that he will be recalled and make his MLB debut Friday vs. Oakland. Freddy Galvis remained out of the lineup with the hamstring issue that has been plaguing him since Sunday and may be placed on the 10 day DL to make room for Guerrero Jr. on the roster. Could the Blue Jays split this mini series? Here is today's game recap.
Game Highlights:
The Giants opened the scoring in the top of the 4th on a ground-rule double hit by Brandon Belt that scored Steven Duggar
The Giants added a run in the top of the 5th as Pablo Sandoval absolutely annihilated a bomb into the second deck in right
The Giants added a run in the top of the 6th as Buster Posey doubled home Gerardo Parra
Two batters later, Evan Longoria doubled home Posey
Clay Buchholz pitching line: 5IP 6H 4R (all earned) 0BB 2K 70 pitches (52 for strikes)
Drew Pomeranz pitching line: 6IP 2H 0R 2BB 5K 87 pitches (53 for strikes)
Final score: Giants 4 Blue Jays 0
My Take:
Clay Buchholz battled through five innings plus a couple of batters giving up 4 runs on 6 hits. One has to be a bit concerned that Buchholz isn't throwing more than 70 pitches in a start. I realize he missed time with an injury in spring training and needs to build back up, but this was his third start of the season. With the season-ending injury to Shoemaker and the uncertainty with Sanchez and heck even Stroman's health can be dicey, the Blue Jays are going to need length from their starters that are healthy. Buchholz should be throwing 80-90 pitches by now
Not much to say about the offence in this one - a grand total of four base runners (two in the 5th and two in the 6th). Teoscar Hernandez (who was thrown out trying to stretch a single into a double) and Eric Sogard got the only hits of the game. Alen Hanson and Rowdy Tellez each drew a walk.
Freddy Galvis saw his consecutive games streak end at 348 games. He did not pinch hit today. Galvis is likely headed to the IL.
Up next, two words : Vladimir Guerrero Jr. Yes, the big moment fans have been waiting for has arrived. Baseball's #1 prospect and the son of ex-Expos star Vladimir Guerrero Sr. is set to make his major league debut. He'll be seeing a familiar face across the diamond as Kendrys Morales makes his return to Toronto after being dealt to the A's the day before opening day. Marco Estrada likely won't be in Toronto as he is still injured. Guerrero Jr. and the Blue Jays will be facing a tough foe in Mike Fiers, but they knocked him around to the tune of 6 runs on 9 hits 4 days ago. Ace Marcus Stroman will take the ball for the Blue Jays. Stroman pitched a masterful 8 innings last start.