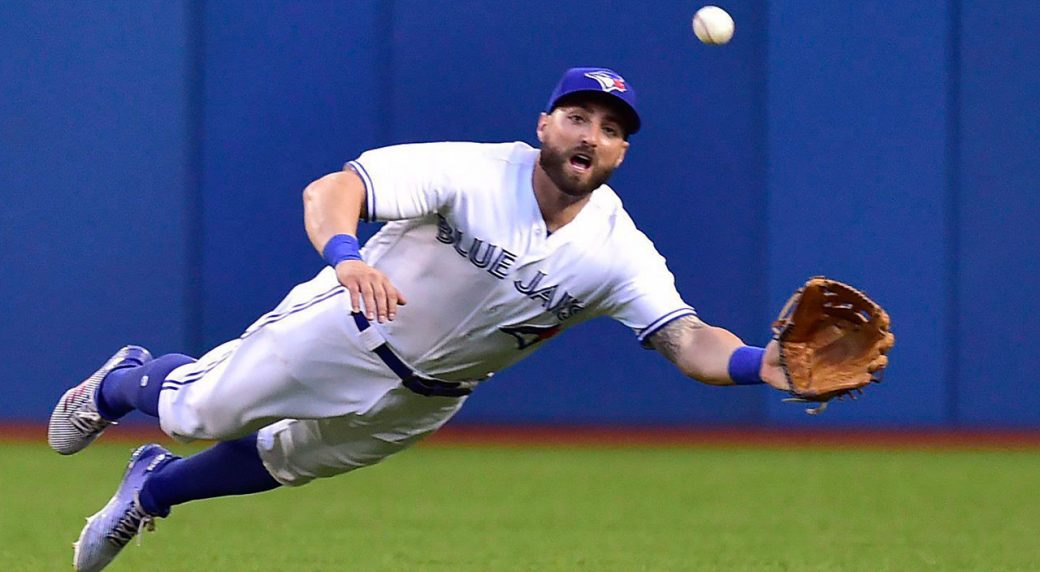 The Blue Jays passed the halfway point of their season on Friday. Their record at the halfway mark was 38-43 (last year it was 37-42). The Blue Jays are 15.5 games back of 1st in the AL East and 12.5 games back of the 2nd WC spot. At this point, they will almost certainly be sellers at the trade deadline. They made their first move on Thursday sending Steve Pearce to division rivals Boston. But hey, it's the Canada Day long weekend and the all-star break is 2 weeks away (Happy Canada Day everyone), Here are 10 random thoughts from week 13 of the MLB.
1. As mentioned above, the Blue Jays made the first of what should be several trades of veteran players for hopefully, prospects, such as Teoscar Hernandez, who was acquired at last year's deadline, who will be in the lineup in the coming years and will shape the team for years to come. Other Blue Jays who will likely move onto other teams are JA Happ and Marco Estrada, who are both on expiring contracts, Roberto Osuna, who is currently suspended for domestic violence, and potentially relievers Tyler Clippard, Ryan Tepera and John Axford. Like last year, the Blue Jays will be looking for players they can control. The only untouchables are Teoscar Hernandez, maybe Kevin Pillar and maybe Aaron Sanchez and Marcus Stroman. Everyone else is up for grabs.
2. The Blue Jays lost Ryan Tepera to an inflamed right elbow on Saturday. He is likely gone until after the all-star break. Tepera had been doing a good job as the closer, at least until he gave up a walk-off homer to Alex Bregman Wednesday. In his absence, save opportunities will likely be given to Tyler Clippard or Seunghwan Oh.
3. Biggest success of the first half: JA Happ. He has been the most consistent of the starting Blue Jays pitchers. Boasting an 10-4 record, tied for 3rd in the majors in wins, Happ has pitched into the 7th or later 7 times this season. He has pitched into the 6th inning 5 more times (12 altogether). Happ gives the Blue Jays a chance to win every five days and he usually gives the bullpen the day off. These are two key factors that are going to net the Blue Jays a decent prospect when he is likely traded in the coming months.
4: Biggest disappointment of the 1st half: the high performance team and training staff for not recognizing injuries early. It all starts with Troy Tulowitzki. He came into camp coming off a lost season due to a severely sprained ankle. Tulowitzki was held back initially due to bone spurs in both heels that eventually required surgery days after opening day. Why in the world did Tulo not undergo the surgery right away? Why let him train and make the injury worse? Now, Tulowitzki might not play this season.Two players who were allowed to start the season that shouldn't have been are Marcus Stroman and Josh Donaldson. Both players suffered strained shoulders in training camp. Donaldson played 3B on opening day and he was unable to make a strong throw to first base. He DH'd for several games and tried to come back to playing defense for a while but eventually took a month on the DL to rehab. He came back and injured his calf. Donaldson hasn't played since May 28 and won't until after the all-star break, meaning he won't get a good deal if the Blue Jays find a suitor for him. Marcus Stroman made seven starts, getting hit hard in most of them, before finally being put on the DL. Since returning from the DL, Stroman is pitching much better because he is healthy. There also has to be questions surrounding the handling of Jaime Garcia, who is on the DL for the second time in a month with an injury to his pitching arm. Aaron Sanchez has not pitched like himself either. He is not using his curve as much as past season and now HE'S on the DL with a finger injury/foot issue. I could go on, but the bottom line is how can the team expect to attract free agents when other players look at who gets hurt and how they are being mishandled.
5. If the playoffs started today, the Washington Nationals and LA Dodgers would both be on the outside looking in. The Dodgers are showing the fatigue of having had multiple deep runs in the past 2 seasons. There are major questions about the health of starting pitcher Clayton Kershaw. In Washington, the Nationals are in a tight race in the NL East with the upstart Atlanta Braves and Philadelphia Phillies. Both those young teams have great prospects who are coming of age now. Meanwhile, Washington has a major decision to make on Bryce Harper, who will be a free agent in 2018. They can delay the decision a bit by signing him to a bridge one-year deal, but if they don't think he will sign in Washington long term they will definitely look to trade him for assets.
6. The World Series is staying in the American league. The Yankees, Astros, Red Sox and Mariners all have greater than 50 wins The Brewers have the best record in the NL st 48-34. The Yankees, Red Sox and Astros all have high octane offences that can put a lot of runs on the board. The Mariners have been the little engine that could, winning many 1-run games and winning at a higher pace since their all-star second baseman, Robinson Cano, broke his hand and was suspended 80 games for taking a banned substance. Don't count out the Cleveland Indians, who will surely win a weak AL Central division where 4 of the 5 teams are under .500, including the Detroit Tigers, who have lost 11 straight games.
7. Question of the week: Should Shohei Ohtani be allowed to pitch again this season. The Angels rookie Japanese import has been on the DL since mid-May with a second-degree sprain of his UCL. He received a PCP injection in the hopes of avoiding Tommy John surgery, which would put his pitching career on hold indefinitely. I know that Ohtani wants to be both a pitcher and a hitter, but at what cost? The Angels have to ask themselves where Ohtnai's value truly lies. Personally, if I was the Angels management, I would try and convince Ohtani to stick with hitting. Yes, he is good at both, but his elbow is vulnerable.
8. The Roger's center is going to be loud on Tuesday as Joey Bats returns with the NY Mets. Bautista really launched his career, literally and figuratively. Bautista's best season in Toronto was 2011 when he led the league in HR (43), BB (132), Slugging% (.608) OPS (1.056) OPS+ (182) and IBB (24). This may or may not be Bautista's last in the MLB, but when he does choose to retire, I hope the Blue Jays extend him a 1 day contract so he can retire as a Blue Jay.
9. And the second to last thought for this week goes to show the oddities that can occur in the game of baseball. This
groundskeeper
had the proverbial lightning strike twice moment on Sunday. Last August he was bitten and scratched by a kitten that had gotten loose on the field. Sunday, he was beaned by the ceremonial first pitch. Talk about bad luck!
10. Blue Jay of the week: Kevin Pillar, who had 7 hits in 18 AB and might have made the catch of the year in the top of the 9th to save the Blue Jays a pair of runs.
Follow me on twitter @tpoole00 and check out my other blog @ proudbcer.blogspot.com