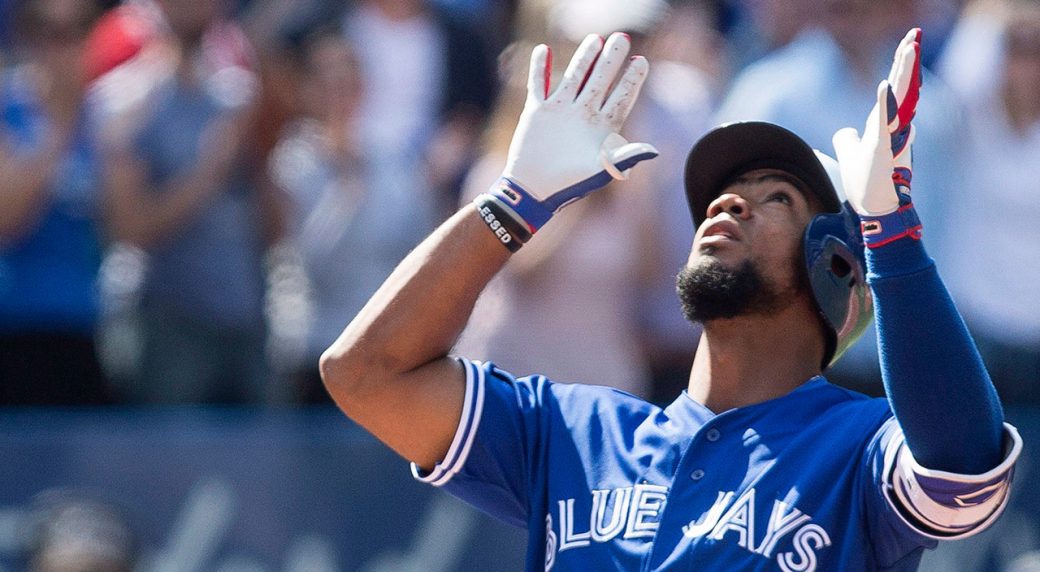 The Blue Jays are a quarter of the way through the season. They have dealt with some adversity this week with news of the arrest of closer Roberto Osuna and that starter Marcus Stroman is headed to the DL with a fatigued shoulder. Here are 10 random thoughts from week 6 of the MLB.
1. The big news this week was the arrest of closer Roberto Osuna on an alleged domestic abuse charge. He was immediately placed on administrative leave by the MLB. Osuna will make his first court appearance June 18. This case is disturbing considering Osuna's background as coming from a place of poverty and violence. Spousal abuse should not be tolerated in our society either. Hopefully he gets the help he needs to better himself and his relationship with his girlfriend.
2. The other big news for the Blue Jays was that Marcus Stroman is on the DL with shoulder fatigue. Stroman was slated to start Sunday's series finale against Boston. Stroman had shoulder inflammation in spring training and really didn't look like himself up to this point. The Blue Jays need to allow him as much time as he needs to get healthy. He is only hurting himself (and the team) not being at his best physically and trying to pitch through something he shouldn't be. Hopefully he makes a speedy recovery. In the interim, Joe Biagini will take his spot in the rotation
3. What a special moment it was to see Ladner BC native James Paxton get a no-hitter on Canadian soil. His only blemishes were a trio of walks, two of which came in the bottom of the 3rd. His
hometown
has already commemorated the achievement. Paxton is just the second Canadian to throw a no-hitter. The other Canadian to achieve the feat was Dick Fowler on September 9, 1945 pitching for the Philadelphia A's vs the St Louis Browns. Fowler allowed 4 walks that game.
4. The Blue Jays made a trade, acquiring IF Gio Urshela from the Cleveland Indians. The Blue Jays are in need of healthy bodies in the infield with Aledmys Diaz and Troy Tulowitzki both on the DL. Devon Travis and Gift Ngoepe are both in the minors after struggling at the plate at the big league level. The Blue Jays want to keep Travis and Ngoepe down in the minors until they improve their swings. Josh Donaldson will need more frequent days off from playing in the field to rest his shoulder. Urshela primarily played 3B for the Indians in 2017. He batted .224 with 1 HR and 15 RBI last season. Urshela played Saturday and was 1 for 2 at the plate
5. A happy mother's day to all mother's on JITH. As per usual, the Blue Jays wore pink cleats and hats. Several players even swung pink bats. The Blue Jays gave away Kevin Pillar jerseys with a cape attached to the back. The MLB also honors those with breast cancer on Mother's day. On a personal note: my great grandmother passed away from breast cancer. I also have a friend who survived breast cancer.
Here
are some Mother's day moments from the MLB on Sunday.
6.
Check out this snake
who wanted to take in a minor league ball game in San Antonio. No word on if the snake was poisonous. Here's a
montage
of other animals who have snuck onto playing fields.
7. What to do with Kendrys Morales? In 100 plate appearances this season, he has just 13 hits. Morales started wearing glasses this season, but they do not appear to be making a difference in his performance at the plate. He has struck out 25 times, many of those on swings and misses. He has been getting less playing time lately due to the lack of success. If the Blue Jays are out of the playoff race in July, they made try and trade him for prospects.
8. This week Russell Martin expressed his desire to play all nine positions before his career is over. It is most likely to happen at the end of a season where he plays one position an inning. Austin Romine of the Tigers played all nine positions last season. He has played 4 of the positions in his career (C, RF, 2B and 3B). He's a good enough athlete to be successful at the infield positions, but center fielders have to cover a lot of ground. It would be interesting to see what kind of a pitcher he would make.
9. An oops moment occurred in the Cleveland Indians game. Francisco Lindor came to the plate wearing the wrong batting helmet. He was anticipating facing a right-handed pitcher and instead was facing Royals lefty Danny Duffy. Lindor had to switch his shin guard to the left leg and get the proper batting helmet.
Check out his reaction
.
10. Blue Jay of the week: Teoscar Hernandez. In a difficult week where the Blue Jays won just twice in 6 games, Hernandez had 7 hits in 26 AB, including 1 HR and 3 doubles. He is also starting to look more comfortable in right field. Hernandez is certainly looking like he'll be here the remainder of the season.