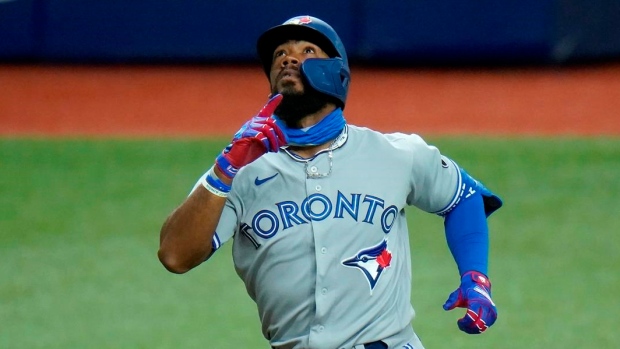 Teoscar Hernandez was 2-4 with 2 runs scored and 2 RBI in a 12-6 loss to the Nationals
After winning Sunday to avoid a weekend sweep to the Mariners, the Blue Jays opened a mini 2-game series against the Nationals. The Blue Jays and Nationals split the 2 games in Dunedin back at the end of April, with the Nationals outscoring the Blue Jays 13-11. Alek Manoah got the start. Reese McGuire was behind the plate. Santiago Espinal was at the hot corner. George Springer was place on the 10-day IL with a left knee sprain (Otto Lopez was recalled), so Corey Dickerson was in LF, Randal Grichuk in CF and Teo in RF. Bo Bichette was back in the field after DH'ing Sunday. Could the Blue Jays make it two wins in a row? Here is tonight's game recap.
Game Highlights:
The Nationals opened the scoring in the bottom of the 2nd as Yadiel Hernandez whacked a solo blast to left
The Blue Jays tied the game in the top of the 3rd on a ground out by Corey Dickeson that scored Bo Bichette
The Nationals took the lead in the bottom half of the inning as Alcides Escobar doubled scoring Riley Adams and Victor Robles
Three batters later, Hernandez singled home Escobar and Juan Soto
A batter later, Josh Bell scored on a thowing error by Alek Manoah
Same batter, Hernandez scored on a sac fly by Carter Kieboom
Alek Manoah pitching line: 3IP 6H 7R (6 earned) 1BB 2K 53 pitches (33 for strikes)
The Nationals added a run in the bottom of the 4th as Adams whacked a solo blast to left
The Blue Jays got a pair back in the top of the 5th as Teoscar Hernandez drilled a 2-run bomb to dead center; also scoring Vladimir Guerrero Jr.
The Blue Jays got one back in the top of the 8th on a fielder's choice hit by Santiago Espinal that scored Hernandez
A batter later, Dickerson scored on a fielding error by Luis Garcia on a fielder's choice hit by Reese McGuire
A batter after that Alejandro Kirk singled scoring Espinal
The Nationals added a run on a sac fly by Ryan Zimmerman that scored Soto
A batter later, Adams doubled scoring Lane Thomas and Kieboom
Two batters later, Robles singled home Adams
Final score: Nationals 12 Blue Jays 6
My Take:
Alek Manoah was lit up for 7 runs (6 earned) on 6 hits while walking 1 and striking out 2. He actually started out great, throwing an efficient 9 pitches, while retiring the side in order. He was taken yard in the 2nd. It was his final inning that he was really roughed up, giving up 6 runs on 4 hits, a hit batter and a walk, as well as an forced throwing error on an attempted pickoff. Manoah will bounce back, I have faith.
The bullpen blew any chance of a comeback. After the Blue Jays chipped away and reduced the Nationals lead to a manageable 2 runs, Taylor Saucedo and Rafael Dolis combined to give up 4 runs on 3 walks, 2 hits and a sac fly. Three of the runs were charged to Saucedo. Dolis must give Pete Walker nightmares. He is so methodical and slow and yet he is so inefficient and walks too many batters. Connor Overton was excellent in his second big league appearace, throwing 2 perfect innings, while striking out 2. Trent Thornton gave up a solo shot. Maybe this revamped bullpen isn't any better?
Vlad seems to be coming out of his slump. He was 2-3 and also drew 2 walks and scored a run. Fellow all-star Teoscar Hernandez bashed a 2-run shot, was 2-4 and later scored on a fielder's choice
Every Blue Jays starter except Markus Semien and Manoah got on base at least once.
The Blue Jays were a pitiful 1-11 with runners in scoring position
In terms of the wild card race, the Yankees swept the Red Sox in their double-header today, The Rays routed and blanked the Orioles and the A's were shut out by the White Sox (here's hoping A's pitcher Chris Bassitt is OK after getting hit in the head by a pitch). The Blue Jays are now 4 games back of the A's, Red Sox and Yankees, who are in a 3-way tie for the two wild card spots.
Up next, the Blue Jays go for the split. Jose Berros pitches against Nationals righty Josiah Gray.