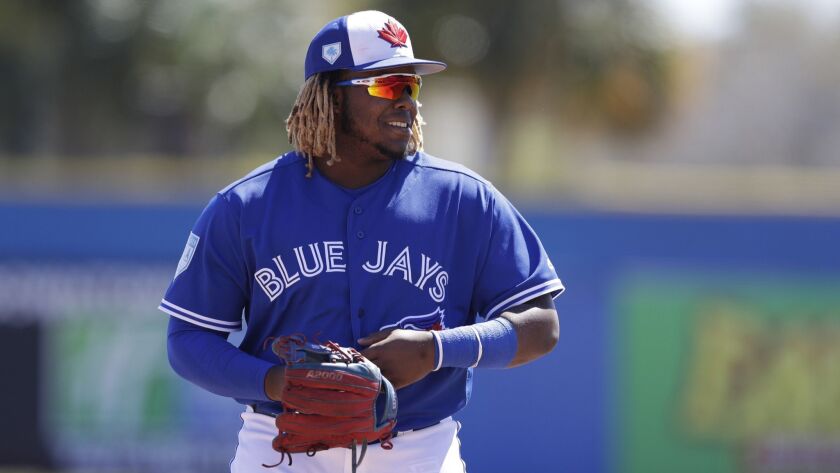 Vladimir Guerrero Jr. got on base three times and scored the only Blue Jays run as the Braves routed the Blue Jays 10-1
After an unexpected four day break due to the Miami Marlins getting COVID-19 and stupidly electing to play the Philadelphia Phillies on the Sunday of opening day weekend knowing they had 4 positive COVID-19 tests, effectively screwing up the schedules of 6 teams in the process, The Blue Jays were finally back in action, taking on their foes from the 1992 World Series Atlanta Braves. Matt Shoemaker made his second start of the season after 5 shutout innings in his first regular season start since tearing his ACL in his fifth start last season. Meanwhile Atlanta pitcher and Canadian Mike Soroka is going to be out a loooonng time after tearing his Achilles tendon trying to hustle to cover first base last night. Randal Grichuk was back in the lineup after missing a week with an SI joint injury. Lourdes Gurriel Jr. got a half day off, serving as the DH tonight. Teoscar Hernandez made his first start of the season in RF with Anthony Alford starting in left. Could the Blue Jays snap the 2 game losing streak? Here is tonight's game recap.
Game Highlights:
The Braves took the lead in the bottom of the 2nd as Mike Adams hammered a solo bomb to dead center
Three batters later, Tyler Flowers smacked a solo blast to left-center
The Blue Jays got one back in the bottom of the 5th as Anthony Alford singled scoring Vladimir Guerrero Jr.
Adams left the game in the bottom of the 4th after pulling a hammy on a groundout
The Braves added a run in the bottom of the 5th when Ronald Acuna beat the throw home on a fielder's choice hit by Freddie Freeman to SS Bo Bichette
Three batters later, Austin Riley lined a three-run shot out to left and into the Blue Jays bullpen, also scoring Freeman and Johan Camargo
Matt Shoemaker pitching line: 4.2IP 6H 6R (all earned) 3BB 2K 88 pitches (56 for strikes)
Max Fried pitching line: 6IP 4H 1R (earned) 2BB 3K 80 pitches (48 for strikes)
The Braves added two runs in the bottom of the 8th as Dansby Swanson doubled home Ender Inciarte and Acuna
Two batters later, Adam Duvall singled scoring Swanson
The next batter, Camargo doubled home Duvall
Final score: Braves 10 Blue Jays 1
My Take:
The long ball hurt Blue Jays starter Matt Shoemaker, who saw five of the six runs scored against him on the night courtesy of 3 HR (2 solo shots and a 3-run tater that came on his last pitch). Like Hyun-jin Ryu, he definitely wasn't as sharp in his second start of the season. Kind of concerning that he couldn't pitch past the 5th, but at least the bullpen was well rested after an unexpected and unprecedented 4 day hiatus.
The bullpen didn't fare much better, giving up a combined 4 runs (all earned), 7 hits and 4 walks. After Matt Shoemaker threw 88 pitches to get 14 outs, Jacob Waguespack, Anthony Kay, Wilmer Font and Shun Yamaguchi needed 73 pitches to get the last 10 outs. It's fair to say that none of the Blue Jays pitchers were efficient tonight.
The one bright spot on the Blue Jays tonight was Vladimir Guerrero Jr, who had his best night (easily) of the season, getting on base three times (2 hits and a 9th inning walk) and looking real solid at first base. Hopefully he keeps it going tomorrow
I wonder if when Shun Yamaguchi signed on with the Blue Jays, he knew that he'd be coming into the ball game with a runner on second base. For the 3rd time in a row, Yamaguchi had to contend with a runner on second base (his first 2 appearances were both to start the 10th inning, once with a lead and once with the game tied). He was much better tonight, allowing just a walk.
Up next, the Blue Jays turn to ace Hyun-jin Ryu, who will be looking to rebound from a rough outing last start where he gave up 5 runs on 9 hits while walking 1 and striking out 5. The Braves will counter with lefty Sean Newcombe.