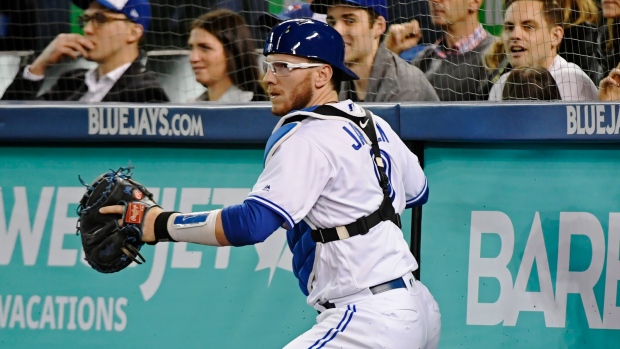 Danny Jansen was 2-4 with a pair of RBI in a losing effort as the Red Sox defeated the Blue Jays 9-7
After a hard-fought four game split with the Rays, the Blue Jays returned to their temporary home to take on the AL East bottom-dwellers Boston Red Sox. Boston has already accepted that this season is a lost cause and started trading away players on expiring contracts (Heath Hembree and Brandon Workman were both dealt to the Phillies on the weekend). Meanwhile, the Blue Jays are right in the thick of the wild card hunt and are expected to be buyers this week ahead of Monday's trade deadline. The Blue Jays acquired Dan Vogelbach in a minor deal with the Mariners. Where he fits remains a mystery, given he is a 1B/DH and the Blue Jays have largely been platooning Vlad and Rowdy Tellez at those two positions. Starting pitching is expected to be a major target this week with Nate Pearson, Matt Shoemaker and Trent Thornton all on the 10-day IL and none are expected back soon. For tonight, Chase Anderson got the start. The Blue Jays were likely expecting around five innings from him since he is still building up after missing the first couple of weeks of the season with an oblique strain. Randal Grichuk got the half day off, serving as the DH tonight, meaning Cavan Biggio was in RF tonight and Teoscar Hernandez was covering CF. Vlad was at 1B for the second straight game and Brandon Drury was at 2B tonight. Santiago Espinal got the start at SS. Could the Blue Jays make it two wins in a row? Here is tonight's game recap.
Game Highlights:
The Blue Jays opened the scoring in the bottom of the 1st as Lourdes Gurriel Jr. doubled home Randal Grichuk and Cavan Biggio
Two batters later, Danny Jansen singled scoring Gurriel Jr. and Teoscar Hernandez. Jansen was thrown out at second base trying to stretch a single into a double
The Red Sox got one back in the top of the 2nd as Mitch Moreland singled scoring Xander Bogaerts
Travis Shaw left the game prior to the 3rd inning with knee discomfort
The Red Sox got one back in the top of the 4th as Moreland doubled home Bogaerts
Three batters later, Jackie Bradley Jr legged out an infield single (Red Sox won challenge) scoring Moreland
The Blue Jays added a pair of runs in the bottom half of the inning as Vladimir Guerrero Jr. doubled scoring Biggio and Santiago Espinal
Kyle Hart pitching line: 3.1IP 8H 6R (all earned) 3BB 3K 70 pitches (39 for strikes)
Chase Anderson pitching line: 5IP 7H 4R (3 earned) 1BB 3K 83 pitches (55 for strikes)
The Red Sox got 1 back in the top of the 6th as Bradley Jr. singled scoring Moreland
Two batters later, Alex Verduga singled home Christian Vasquez
A batter later, Rafael Devers tripled scoring Bradley Jr., Verduga and Jose Peraza
A batter later, Devers scored on a sac fly by JD Martinez
The Blue Jays got one back in the bottom of the 9th as Teoscar Hernandez smacked a solo blast to right
Matt Barnes pitched the 9th for his second save of the season
Final score: Red Sox 9 Blue Jays 7
My Take:
Normally, I'd be lamenting another pitcher failing to make it past 5 innings. However, Chase Anderson is still working on building back up in sub-optimal circumstances. It's quite frankly a surprise he hasn't re-injured himself, given that ideally he'd be on a rehab stint, but because there are no minor leagues playing this year, he's forced to jump right into the fire and pitch in the majors. Not the best start, allowing 4 runs (3 earned) on 7 hits while walking 1 and striking out 3. Best thing is, he threw 83 pitches and should need just one more start to get to the 90-100 pitch threshold you like to see starters at
The Blue Jays will have interesting decisions to make now that two of their regular infielders are injured (Travis Shaw at one of the corner positions and Bo Bichette at SS). There are a few players capable of playing multiple infield positions (Joe Panik and Brandon Drury have both played 2B/SS/3B this season, Vlad has experience at the hot corner, and Santiago Espinal has played one game at the hot corner). Vlad may not see much time at DH the next while if the Blue Jays want to keep some of the other bats in the lineup.
It was another ugly inning for reliever Wilmer Font, who was lit up for 4 runs on 3 hits and a hit batter and raised his ERA to 11.00. Plus he tagged starter Chase Anderson with an extra run on his pitching line. Font has had a rough season thus far. Hopefully the issue is mechanical and not an injury.
Despite the loss, the Blue Jays put up 7 runs on 13 hits and most nights, that will be a win.
Every Blue Jays starter except Travis Shaw (had just one AB before leaving with an injury) and Brandon Drury
Up next, the Blue Jays try to even the series. They will catch a break as Red Sox ace Nathan Eovaldi, will miss his scheduled start due to a calf strain. Instead, the Blue Jays will face righty Colten Brewer. The Blue Jays have not announced a starter, but it's expected to be a bullpen day. One of Jacob Waguespack, Anthony Kay or Thomas Hatch will likely get the ball first, unless the Blue Jays acquire a starter in the next few hours.