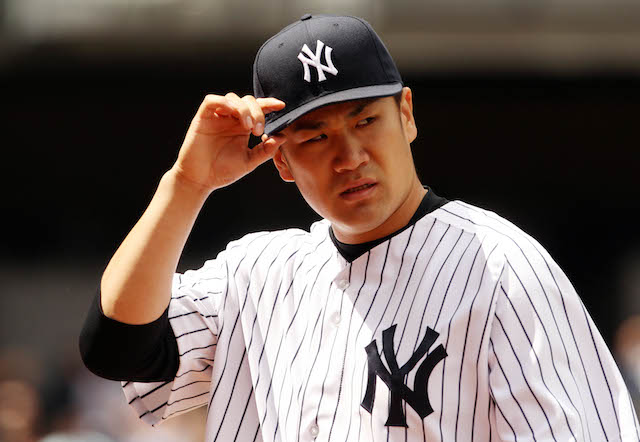 Masahiro Tanaka threw 7 strong innings to lead the Yanks to a 4-0 victory
Game #160 is in the books. There are just two games remaining before players pack it in for the winter and start getting ready for the 2018 season.
Game Highlights:
The Yankees take an early 2-0 lead on a perfectly placed infield single by Starlin Castro and a sac fly a batter later by Greg Bird
Jays starter Joe Biagini pitching line: 5IP 6H 3R (all earned) 3K 1BB 95 pitches
Ezequiel Cabrera breaks up the perfect game with an infield single with 2 outs in the 4th; was later picked off second base.
Yankees starter Masahiro Tanaka pitching line: 7IP 3H 0R 15K 0BB
Josh Donaldson continues to be hot the last week of the season. He hit a double in the 7th inning. JD has 9 hts in the last 4 games including 3HR
The comeback falls short. The jays got the first 2 runners on in the 9th but Aroldis Chapman came in and retired the next three Jays batters. Final score: Yankees 4 Blue Jays 0
My Take:
Contrast of starters:

On the mound for the Yankees was Jays killer Masahiro Tanaka. The Yankees Japanese ace Tanaka was on his game early striking out the side in the first. Tanaka had all three pitches working and he was very efficient with his pitches. In particular, his breaking ball was really moving. He struck out 6 of the first 9 batters he faced. In fact, Tanaka had a perfect game through four innings. Tanaka set a new career high in strikeouts today with 15. Every Jays batter struck out at least once. You know things are going well as a starter when you pick off the first base runner you allow after being so dominant to start the game.
By contrast, Joe Biaghini struggled in the first inning. He appeared to be overthrowing some of his pitches and missing his spots early. The Yankees loaded the bases with 2 singles sandwiched by an Aaron Judge walk.This prompted a rare visit to the mound by manager John Gibbons after the Castro single. Whatever message Gibbons gave seemed to resonate with the Jays starter as he retired the next 9 batters before a double by Bird with one out in the 4th. Biaghini would pitch one more inning before his 2017 season came to an end.
Jays starter Joe Biagini has had an inconsistent season. He started the season as a middle reliever. When Aaron Sanchez first started having blister problems, Biagini slipped into his spot in the starting rotation. It was only supposed to be temporary but Sanchez was never able to get over the injury. As a starter, Biagini looked good at times but he was throwing too many pitches which drove up his pitch count. In my opinion, Biagini is a reliever as opposed to a starter. If the Jays face a similar circumstance with Sanchez next year, they should try Ryan Tepera as a spot starter or perhaps target one of the free agents, such as Matt Garza or Chris Tillman
HR or bust. Once again, the Jays bats were quiet with 4 hits scattered throughout the game. Too many times, the Jays have played for the big inning, which has led to pop-ups, strikeouts or hard hit balls that fielders make nice plays on. It has driven me nuts all season listening to Buck Martinez refer to a batter hitting a HR in a previous game. Case in point, first inning of today's game, the Yankees loaded the bases and manufactured 2 runs without hitting a home run. In fact, there were no home runs today. Next season, I would like to see more bunts, hit and run plays and base steal attempts.