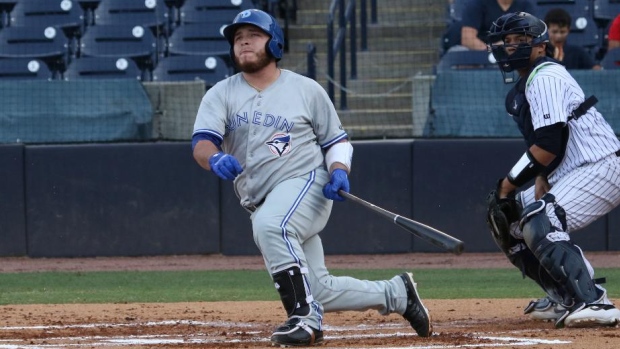 Alejandro Kirk drew a pair of walks and made a couple of nice blocks in a 2-0 shutout loss to the Royals
After splitting a double-header yesterday, the Blue Jays and Royals were back at it with a matinee to wrap up the four game series. Big non-Blue Jays news. Jay Bruce retired from baseball today following the Yankees-Rays tilt. He was not in the starting lineup today. Robbie Ray got the start, as did his personal catcher Alejandro Kirk. Joe Panik was at the hot corner. Vlad got the half day off, serving as the DH with Rowdy Tellez at 1B. Lourdes Gurriel Jr. got the complete day off with Josh Palacios in LF. Could the Blue Jays win and earn a series split? Here is today's game recap.
Game Highlights:
Robbie Ray pitching line: 5IP 4H 0R 6BB 3K 92 pitches (52 for strikes)
Brady Singer pitching line: 6IP 2H 0R 3BB 6K 90 pitches (55 for strikes)
The Royals opened the scoring in the bottom of the 7th as Salvador Perez clobbered a 2-run bomb to left-center and into the waterfall; also scoring Carlos Santana
Greg Holland pitched a perfect 9th for his 2nd save of the season
Final score: Royals 2 Blue Jays 0
My Take:
Robbie Ray had a rough outing, but was effectively wild. He didn't allow a run, but he walked a season-high 6 batters and scattered 4 hits over 5 innings. The walks really drove up the pitch count and a depleted bullpen was forced to get 9 outs
TJ Zeuch had another rough inning, giving up a 2-run blast that was the difference in the game
Tanner Roark had a decent inning of work, walking one and striking out one. Hopefully he gains some confidence being used in lower leverage situations out of the bullpen
Offensively, it was not a good day for the Blue Jays. They were held to five total base runners over the first four innings. They had runners on 1st and 2nd innings 2-4, but did nothing with it. After the 4th inning, the Blue Jays did not get one single base runner, recording 15 straight outs. Alejandro Kirk was the only one to get on base more than once, drawing 2 walks.
Up next, after an off day tomorrow, the Blue Jays head to Fenway park for a brief two game set vs. the Red Sox, who were 1st in the AL East heading into today's action with a 10-6 record. This comes after the Red Sox were horrible in 2020. Last season, the Blue Jays and Red Sox split the season series 5-5 with the Blue Jays outscoring the Red Sox 58-50. Hyun-Jin Ryu gets the start Tuesday against an unannounced Red Sox pitcher.