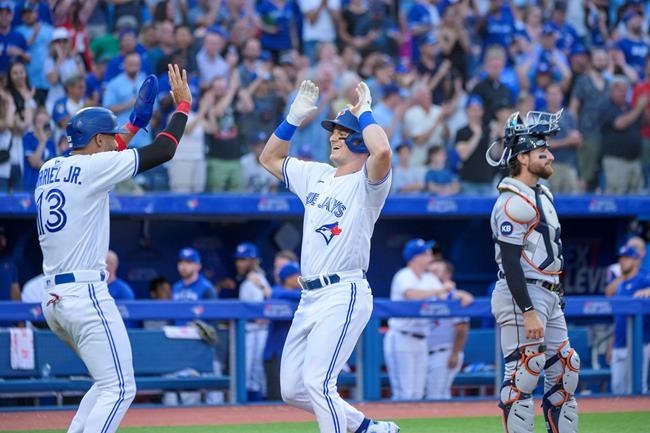 After starting the unofficial second half with a bang in a 3-game sweep at Fenway Park, the Blue Jays spent this week at home facing the Cardinals and Tigers. First up was the Cardinals and Albert Pujols final series in Toronto. The Blue Jays and Cardinals split the two games and the aforemmentioned Pujols had a big impact on the series (more on that later), The Blue Jays then played the Tigers for 4 games. The first game featured a strong 5-inning effort from Yusei Kikuchi. While the Blue Jays dropped Friday's game, the bigger concern was Alek Manoah being forced to leave the game after getting hit in the elbow by a comebacker. The Blue Jays won the last 2 games of the series for their 17th series win of the season. They also are 4-0 on the final day of each month. Looking at the week ahead, after today's off-day the Blue Jays open a stretch of nine straight games, starting with a mini 2-game set in Tampa Bay. The Rays have won 5 of the 8 meetings in the season series thus far and have outscored the Blue Jays 36-30. The Blue Jays end the week with 4 games in Minnesota. The Twins took 2 of 3 from Toronto June 3-5. However the Blue Jays actually outscored the Twins 21-20. Here are ten random thoughts from week 17 of the MLB.
1. The Blue Jays got good news and bad news on the injury front this week. Let's start with the good news. The Blue Jays welcomed back Yusei Kikuchi from the injured list Thursday. The lefty was put on the injured list with a neck strain the day after a disastrous July 5 start where he couldn't get out of the 3rd inning. Kikuchi revamped his pitching mechanics while rehabbing and it paid off Thursday with 5 solid innings, walking just one batter and giving up a run on a pair of hits. The other potential good news is Julian Merryweather (left oblique strain) and Nate Pearson (right lat strain) have started progressing on throwing programs with Merryweather perhaps a bit ahead of Pearson having already started throwing bullpens. The Blue Jays could soon have a couple more lefty options in the bullpen as well. Andrew Vasquez got into a rehab game Thursday in Buffalo. He is recovering from a sprained ankle. Taylor Saucedo has been pitching in rehab games for a few weeks now and should be ready imminently for a call up once his 60 days on the IL are up. Now for the bad news. George Springer tweaked his chronically sore elbow Thursday and was out of the lineup Friday. Honestly at this point, I'd rather see Springer put on the 10 or 15 day IL to really shut things down so he can be in the lineup every day in September. Also, one only has to look at how the Blue Jays managed last season's quad strain to know that this is the right move. Also on Thursday, Bo Bichette injured his shoulder colliding with Lourdes Gurriel Jr. in the outfield. He reported a sore shoulder the next day. Even if Bichette and Springer miss a few days, it will be a good test for the depth the Blue Jays have for position players. Utility man Cavan Biggio can certainly fill in on a few positions. Raimel Tapia would certainly get the bulk of the starts in CF with Bradley Zimmer perhaps getting a start or two as well. The final injury concern was to Alek Manoah, who left Friday's game in the 6th inning after taking a comebacker off his elbow. Manoah has been the bonafide ace this season, with an 11-5 record (includes Friday's loss) and a solid 2.43ERA.. He threw 6 or more inning as in 15 of those starts and pitched into and got outs in the 6th inning 18 times. Losing him for even a start would be significant.
2. It was a special moment at the Rogers center as Blue Jays fans saluted Cardinals legend Albert Pujols, who will be retiring at the end of the season, both Tuesday and Wednesday prior to his first at-bat of the game. An 11-time all-star, including this season, Pujols won 3 MVP awards (2005, 2008 and 2009) and was rookie of the year in 2001. The second decade of Pujols career wasn't quite as successful. It started with signing a massive 10 year deal with the Angels. He struggled mightily his first month of the contract and didn't hit his first HR in an Angels uniform until May 6 against your Blue Jays. Against the Blue Jays, Pujols hit .325 with 11 HR (including a 3-run shot Wednesday that was the final nail in the coffin of a 6-1 win for the Cardinals) and 40 RBI in 228AB over 58 games (57 of which he started). That was classy of the Blue Jays fans to salute this legend
3. Another ex-Blue Jay, Drew Hutchison, who has, perhaps somewhat surprisingly, had a long career spanning a decade, faced his former team Saturday. Eleven games into his career, he sprained his UCL and had Tommy John Surgery August 25, which wiped out his entire 2013 season. Hutchison made 30 starts in 2014, going 11-13 with a 4.48ERA. The following season, Hutchison made 28 starts and was 13-5 with a 5.57ERA. The next season, Aaron Sanchez won the job as 5th starter and Hutchison was traded to the Pirates August 1 2016 for Francisco Liriano, Reese McGuire and Harold Ramirez. between the trade and 2021, Hutchison got a handful of games with the Rangers and Phillies in 2018 and failed tryouts with the Dodgers, Yankees, Twins and Angels. In 2021, the Tigers signed him to a deal. Saturday, he showed he can still pitch, allowing a run on 2 hits while walking 3 and striking out 3. If it weren't for Derek Law giving up 4 runs in the 6th inning, Hutchison might have beat his former team.
4. On Thursday, the Blue Jays announced major plans to renovate the Roger's Centre over the next two winters. This will include raising the bullpens and moving the 100 level seats closer to the wall with the goal that every home run reaches the stands. Currently, a significant number of home run balls land in the bullpens. Phase one will focus on the 100 and 200 levels with social spaces being prioritized alongside the traditional seating options, including installing patios, drink rails, bars and viewing platforms to allow fans to move through the stadium as the game is being played. In the 500 level, all original seats will be replaced and social decks will be added. Benefits for the players include a new 5000 square foot weight room, a player's family room and a staff locker room. The second phase of the project will focus on 100 level infield seating with more premium seating added. Should things go wrong, the Blue Jays should have a contingency plan for games in Buffalo. This is a good way for Rogers to get back in the good graces of the Canadian public after the massive outage that affected so many Canadians July 8. Plus surely it'll help attract potential free agents as the Blue Jays strive for their first World series championship since 1993.
5. This season, several prominent players have missed series in Toronto because they are not vaccinated against COVID-19. The Kansas City Royals list was the longest thus far and included the recently traded Andrew Benintendi. This week, Blue Jays fans missed out on seeing all-stars Paul Goldschmidt and Nolan Arenado. Boston's closer Tanner Houck missed a couple of series in Toronto and his team blew saves in his absence. I'm not here to argue that these players should get vaccinated (although they should). I do wonder if some players might change their minds if the Blue Jays were to win the World series because of an unvaccinated player's absence. One disadvantage the Blue Jays DO face with Canada's COVID restrictions is a smaller pool of potential players they could sign or trade for. Nonetheless, there are ample players who will thrive in a Blue Jays uniform who are vaccinated against COVID-19.
6. With the trade deadline tomorrow, here are some fun trade deadline facts Blue Jays addition (come up with your own fun facts in the comments):
First trade in Blue Jays history: January 5, 1977 - Acquired Phil Roof from the White Sox for a player to be named later (later sent Larry Anderson to the White Sox)
First trade deadline deal: August 15 1978 - Blue Jays trade Rico Carly to the A's for Willie Horton and Phil Huffman
Team they've traded with the most: Oakland A's (38 transactions)
Team they've traded with the least: Tampa Bay Rays (5 transactions)
7. Let's examine the Blue Jays needs and potential targets this trade deadline. The big need is a left-handed bat off the bench. Another bullpen arm and potentially a starting pitcher as insurance in case of injury and if Yusei Kikuchi and/or Ross Stripling can't consistently pitch deep in games. As noted above, vaccination status is a consideration with players being required to quarantine 14 days on both sides of the border if unvaccinated. Joey Gallo, anticipated to be DFA'd soon, could become an option for free. Perhaps Joey Votto would be interested in playing in Toronto, especially after seeing the warm reception he received in what could be his final series in Canada. A couple of big names that the Blue Jays could go after that would cost a lot of prospects and potentially roster players are Shohei Ohtani or Juan Soto. It's unlikely either of these two stars will be traded before Tuesday. Jose Quintana could be an option as an extra starter. In any case, the Blue Jays will certainly be buyers on this trade deadline with as many as 11 teams potentially looking to sell.
8. The Yankees threw the first gauntlet, acquiring Andrew Benintendi from the Royals for three prospects. Benintendi, who is yet to be vaccinated and thus would be unavailable either in the series September 26-28 in Toronto or a possible playoff series in October. Now, Benintendi did express a willingness to get the vaccine and he would have time to get both shots before the Yankees travel to Toronto at the end of September, but he'd need the first shot in the next week or so as to be fully vaxxed, you must be two weeks past dose 2 and three weeks is the minimum time between shots if he got Pfizer. He could also go for the Johnson and Johnson and only need one shot. At any rate, Benintendi was batting .325 with 3 HR and 39 RBI over 93 games with the Royals prior to the trade. His start with the Yankees? Not so hot. A grand total of 1 hit and 2RBI over 15 AB in 4 games, including Sunday.
The Mariners boasted their starting pitching Friday, sending 3 of their top five prospects to the Reds for righty Luis Castillo. The former Reds righty is 4-4 with a 2.86ERA in 14 starts. He's expected to make his first start as a Mariner early next week against the Yankees in NY. Speaking of NY, the Mets acquired outfielder Tyler Naquin and lefty Phillip Diehl from the Reds Thursday for a pair of teen prospects. Naquin was batting .246 with 7HR and 33RBI in 187AB over 56 games with the Reds. Diehl has a brutal 11.12ERA in 5 appearances this season. Perhaps a change of scenery is the tonic he needs? On Saturday, the Phillies SS Edmundo Sosa from the Cardinals in exchange for lefty Jojo Romero. Sosa is batting .189 with no HR and 8RBI. The Phillies are hoping he'll be able to improve their infield defense, much like Bradley Zimmer does for the Blue Jays. Romero is another reliever who is hoping a change of scenery bolsters his fortunes. In 2 games this season, he has an astronomical 13.50ERA.
Also on Saturday, the Dodgers acquired righty Chris Martin from the Cubs in exchange for utility fielder Zach McKinstry. Martin is 1-0 with a 4.31ERA in 34 appearances this season. McKinstry batted a paltry .091 with 1HR and 2RBI in 11AB this season. He has experience playing 2B, 3B and SS in the infield and the corner positions in the outfield. It's a nice asset to have to be able to play multiple positions. The final trade Saturday saw the Rays acquire outfielder David Peralta for catcher Christian Cerda. Peralta batted .248 with 12HR and 41RBI in 278AB over 87 games in Arizona this season. He gives the Rays extra depth with Manuel Margot still on the 60 day IL and not expected back for another month. Finally, on Sunday the Giants acquired infielder Dixon Machado from the Cubs for righty Raynel Espinal. Machado hasn't played in the majors since 2018. Espinal is on his third team this season. This could be a deal where nobody wins.
9. Let's end this week's random thoughts post with another kind gesture from the Blue Jays and their fans. They gave broadcaster Buck Martinez, who was returning to the booth after completing, a hero's welcome. Albert Pujols gave Martinez a big hug as he warmed up. In the second inning, players and coaches came onto the field to tip their cap to Buck when he was announced to the crowd. After the game, fans gave Martinez another round of applause as he left the stadium. All of this is so deserving of an icon that played for the Blue Jays for the final six seasons of his playing career, managed the team for a season and a third and and has been a play-by-play/color commentator announcing Blue Jays games for several seasons. Hopefully Buck can continue to be in the Blue Jays broadcast booth for several more years, health permitting.
10. Blue Jay of the Week: Matt Chapman. He had 4 HR in 4 days against Detroit and 2 RBI Tuesday against St Louis and was solid at the hot corner defensively. He's sure making Blue Jays fans forget Marcus Semien.