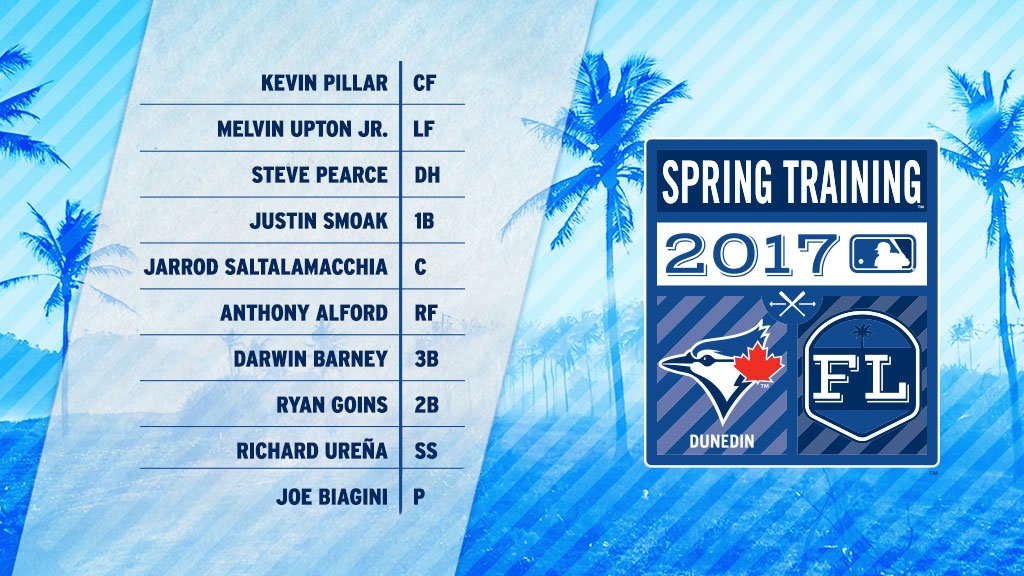 I guess Salty's name can fit on the card.
Let me first apologize for the bad courtroom pun that is the title.
With ST and the WBC in full swing, I thought it would be interesting to talk about something that is often discussed among most of us here: the batting order. Or I guess I should say, "the optimal batting order". Obviously, the line-up above is far from what most of would consider "optimal" as some of our regulars are currently playing it out in the WBC, but an often hot topic of debate is who should hit where. RADAR had an excellent piece last year I believe on the benefits of Pillar hitting lead-off (likes to hit, could hit to all fields, can steal bases, etc.) which follows some older-school thinking, but I think still holds some merit. The response or reverse to that is a fair amount of stat-geeks will say Jose belongs at the top with his ability to take/draw walks, and his power threat at the plate. Not a bad idea either, and I don't think either one can be deemed "wrong", I think it largely depends on what you're dealing with as a whole (i.e., other players, park factors, who's pitching, etc.).
Pillar at the top can work if you're trying to model your line-up around some more small ball principles. The Royals, and most NL teams come to mind in this regard (IMO) as they are more likely to going to play in bigger parks, have pitchers hitting, and kind of need strings of hits together to #manufactureruns (sorry, had to). I don't think teams should be blamed for that, they're just playing with the cards they're dealt. Jose also works in that he can take a fucking walk like a boss, and can still go yard like the best of them (having a bit of smaller park no doubt helps a bit, but I doubt it's the largest factor). Again, some may look at Jose batting first and say it's a waste of his power, but it shouldn't be singled out as a bad decision; if it's working, why fix it?
I know that smile makes some of you ladies get the "tingles", but hold on with me until the end.
If you're wondering why the random cover of Spartacus/Viking Man of Athlon Sports is in here, it's where I got some of my inspiration from. The other bit comes reading and partaking of arguments/debates with you beautiful bunch of assholes (kidding, you're not all assholes). Unfortunately, I can't find a link for the article, but it was written by Matt Trueblood, and he's got some stuff over on Baseball Prospectus if you want to check him out. The title of his article is dubbed "Restoring Order", and he goes over some goods point on how to best optimise the line-up card, albeit his example came with the RedSox (groan, I know, but I'll try and SparkNotes/ColesNotes it for you). Now before most of you start hurling whatever object is closest to you for what I'm about to say, know this, the 2016 RedSox could fucking hit the ball and they could it hit well. Okay, you may now proceed to chuck objects at me or flip tables in my direction in Wolf's case.
Hear me, slash Matt out real quick. The RedSox as a team were batting .292, had an OBP of .359 and were slugging .474... Fenway Park aside, I think every team in the league would kill to have that slash line. They were also scoring 5.7 runs/game (no wonder Rick had such good support). Then the All-Star break happened, and the team began to shit the bed for a bit (their line fell to .251/.314/.432, not the greatest). And then John Farrell did something that anyone here with enough #FarrellBall jokes will probably deem 'un-Farrell' like. He switched the order around to what probably a fair amount of saber-nuts would say he probably should have been using anyways. Betts went from lead-off to clean-up, Pedroia went from 2nd to lead-off, Ortiz went from clean-up to 3rd, and Bogaerts went from 3rd to 2nd. Then they went on that tear late in the year, winning 31 of 43 games, scoring 5.9 runs per, Ortiz became vintage Papi, Hanley was slugging .700 in his next 40 games, while Pedroia and Betts were both hitting .350 over the next six weeks.
Hard to argue with that success, but I'm not going to continue boring anybody with more RedSox semi-ball-washing. So n
ow we're going to get to the fun stuff, and look at each position in the line-up and deem who best fits the role. Matt continued his article with guys from the Sox, so I'll be paraphrasing some of his stuff while trying to draw similar conclusions with our guys who are most likely going to play for most of the year.
Lead-Off
Throw me a hanger. I DARE YOU.
The traditional line of thinking: a fast guy who can hit and steal bases. Out prototypical guys in that regard are probably Superman, MUJ, and maybe DTrav, but only one of those guys is fairly decent at getting on base to utilise that speed. So if the most important thing is having that lead-off guy making sure his ass is at least on first base, we have one of the kings in the game available to us: Joey. Fucking. Bats.
Career .366 OBP? Should play out. High power threat, although Matt diminishes the value of power in the lead-off spot. My guess would be simply for not having guys in front of you at least once a game. That's not the biggest worry to me if the bottom order guys are finding ways to get on base or string mini-rallies together, as Joey will still have some chances to bolster those RBI totals. Farrell had switched Pedroia to this spot and was probably in the best interest. Dustin's not getting younger, and losing some of his power and speed.
Secondary options: DTrav (2nd), Superman (3rd), Tulo (4th)
Second
Old school thinking is that the guy batting third has the most opportunities to drive in runs, and is correct. But, with sometimes a player is likely going to get a PA versus his opportunity to drive in runs, the gap is outweighed by getting that one extra PA about once every nine games (All credit for that goes to Matt's article). Which makes sense if you have the bottom portion of your lineup set well, and things are rolling for them. So we've thrown out some old wisdom of the 2nd guy being a table-setter, and have come around to the notion that your man batting second should be a guy that does everything well but strikes out a fair amount. Now, who do we have that fits that role... WAIT, I KNOW!
Fooled you, didn't I? But in all seriousness, Vizquel found himself in this role often, and he had a career OPS of .688 (I know some of you are cringing).
Is this what a rain dance looks like?
Here's the badass we all know and love, and he fits the bill perfectly. Except for the strikeouts part, he had less in 2016 than 2015 (119 to 133) and walked more in 2016 than 2015 (109 to 73). Fuck it, who cares? MAKE IT RAIN!
Secondary Options: ... Uhm... I don't know... Tulo maybe? Jose?
Note: Dosh's spot in this line-up will most likely, not move at all during the season unless something goes really askew. That being said, whoever bats in front of him, is going to get pitched to quite often. Having Jose in front of Dosh is great, but if fastballs are going to be thrown quite a bit, having a guy like Pillar or Travis or who may not walk a lot, but can hit the ball fairly well shouldn't be dismissed solely on their OBP or be dubbed as Ludacris. If they hit, it'll go up, and if they hit really well, it should go up even more.
In terms of Farrell's decision to bat Bogaerts here, I wouldn't say it's bad, but Mookie is probably the better option looking forward.
Third
Summing up Yussel's season last year fairly accurately.
This spot in the lineup is the tough one IMO, and here's why. Third hitters should be worse than the second and are most likely to come into a game with 2 outs and nobody on base. Homeruns are precious, while walks/singles aren't. You need multiple hits/walks to score that guy. Matt even mentions some great hitters being miscast in this spot *cough Angles/Trout cough*. His guy that kind of fits the bill perfectly: Pujols. He's not as great as he once was and becoming somewhat homer-reliant. My pick from our squad: Monsieur Martin.
Russ had a less than stellar year last year, and kind of raised some red flags about his offence capabilities. I think with some more rest days he should be better this year and his numbers should bump a bit. That being said, this spot in the line-up gives us one of our two most flexible holes to fill based on what may be working and what may not be working in other parts in the line-up. There a few guys that could be plugged in here and it wouldn't look that bad.
Matt dubbed moving Ortiz here to be a waste of Ortiz's patience and said Hanley would fit the bill better, as Hanley is becoming slightly homer-reliant like Pujols.
Secondary Options: Jose/Tulo (2nd/3rd), Kendrys (4th), Pearce (5th), Smoak/Salty (6th/7th)
Fourth
Clean-Up. Not much else to it really. Get any guys left on base, HOME. Probably the only piece of old baseball thinking that still holds true. Should share similar make-up to your number 2 guy, but with more power. My pick, based on what stat-junkies have said: Ex-Royal Kendrys.
Not too many photos of him in Jay's garb yet, sorry.
All the things that have been said about his hard-contact rate should play out well in this spot, as well as him moving to more hitter-friendly parks for a majority of the season. Front Office jumping the gun on the signing be damned!
Secondary Options: Tulo (2nd), Pearce (3rd), Jose (4th), Smoak/Salty (5th/6th)
Probably the spot where Ortiz should have stayed.
Fifth
This is the point where Matt states that specialisation of the line-up begins to break down. The fifth hitter should be slightly worse than 1st, 2nd, and 4th guys, and about an equal overall ability to the 3rd guy, but more well-rounded (good gap power, can hit to all fields).
"Okay, first pitch was 2-seam away, 2nd was slider low and away, 3rd was 4-seam up, and in, 4th was a hanger that I should have fucking crushed..."
I would say Tulo is probably the best fit in at this spot, although I think him and Morales could easily just swap places between 4th and 5th. Tulo could be at the point in his game where it's just a slow downhill ride from here, but he's still one of the better hitters in the game, and he likes to see pitches (3.94/AB in 2015). That would also make him an excellent lead-off candidate, but it's not a role he's come around to yet. I also think that if teams play more shifts against him and it causes his game to become more one-dimensional, bumping him up to third in the order isn't a bad idea either, and Russ could take the 5th spot.
Secondary Options: Kendrys (2nd), Russ/Pearce (3rd/4th), Smoak/Salty (5th/6th)
Sixth

This spot is a tricky one, but at the same time not really. Matt has the sixth guy as a perfect place for a speedster since the power guys have come and gone and the bases are most likely clear, or the guys that are on are maybe on 2nd or 3rd. So a fast 6th guy has the job of starting a new rally and can hopefully turn some singles into doubles or triples now and then if he lacks power. Matt also states that not all teams have this type of guy and look to fill the void by adding another power bat the to just fatten the middle of the line-up more. My personal thing is that all the guys that have been previously listed are by no means "speed demons", and having a guy who runs fast is somewhat pointless if the bases are clogged. My idea behind eliminating that possible scenario would be to have Kendrys bat 3rd, and then be followed up by Tulo and Martin; he should able to make it 2nd, 3rd, or home a fair amount of times if those are able to hit the gaps or go yard.
The left-field conundrum.
This is pretty much the only reason I said that this one would be tricky. The current conundrum that resides in LF gives us some flexibility in this spot that checks off most the boxes that Matt has mentioned. Zeke gives us that pure speed and kind of has the other lead-off man/rally starter vibe to him. Pearce isn't exactly fleet of foot (13 career SB), but he has more pop in his bat and fills in nicely behind the big bangers. MUJ gives us the best of both worlds should he play like how he did in SD and not when he came over here. Dalton is the last guy I threw in here, only for the fact that should he force his way onto the team out of ST or later in the year, this may be his best case scenario as to where he bats in this lineup with the rest of the power bats we possess. We know he can run, and if he's in front of other guys who can slash and steal bags, he seems like a good guy to have in front of the rest as he's probably the fastest of anyone on the team.
Secondary Options: Superman (2nd), Russ (3rd), Smoak (4th), Salty (5th)
Seventh
"The seventh hitter is slightly worse sixth hitter: fast, capable of punching some balls to the wall, but prone to making outs. Has sub-par on-base skills, but other tools that help the bottom of the line-up." WELL, WOULD YOU LOOK AT THAT? I know just the guy!
"Enough with the jokes about how hard it is to find pictures of me taking a walk, kay?"
Based on Matt's description above, this spot belongs to Kevin Pillar and he should own it. There a couple other guys that can fill in here, but I have a feeling Kev's gonna get the majority of the time. Be the Captain of the Bastard Squad at the bottom of the order, and give'em hell. #iwantmybaseballscalps
Secondary Options: MUJ/Zeke/Dalton (2nd/3rd/4th in whichever way you feel), DarBar (5th), Goins (6th)
Eighth
If we all played by NL rules, herein lie thy pitcher. But we don't, so someone else must be plugged in here. If the ninth hitter is going to be nothing than a rally-killer, then the eighth guy has to try and be a 2nd-tier clean-up hitter to mop up whoever may be out on the bases. A slight emphasis on power is good in this spot, and I think we have another perfect candidate(s) to fill the role.
BlueJays now serving SaltySmoak BBQ Sauce

Smoak and Salty. Both of these guys are big, can switch hit, can smash a ball over the wall here and there, and have career numbers that are almost identical (it's kinda scary). I have them both slotted in this spot kind of based on their hierarchy on the team. Salty is most likely the backup catcher out of ST and will have some limited ABs, while Smoak had a pumpkin-like season last year, and has to prove his worth. I'm not trying to slight these guys, I just feel that if the team is getting the worse side of them, they're going to probably closer to the bottom of the line-up card. If they're hitting well, I could see them being slotted in the 5th or 6th hole, but I won't hold my breath.
Secondary Options: My 2nd pick is whichever one isn't on the line-up card, Pearce (3rd), Upton (4th), Barney (5th), Goins (6th), pitcher during interleague.
Ninth
Finally, the spot held for the runt of the litter, aforementioned rally-killer, or if your team is lucky enough to have a guy, the secondary lead-off hitter. I'm fairly confident in saying this, that most of the baseball universe agrees that your worst hitter bats last. You're not putting him in a spot in the lineup where the guys ahead of him need to be brought home/moved over. He's probably not going it done. It also sucks when the bottom half of the order has done the same thing of stringing together some guys on base, and this guy comes up and has to do the same role. It's bound to happen at some point, and you're just praying for the guy to not get out.
Matt says the RedSox were lucky to have Bentendo/Benintendi to fill this spot, as not every team gets this luxury.
Travis: "I see you guys looking at how I rake"
Barney: "Talk to me when you have a GG"
Goins: "I just wish Bucholz was still in the division..."
We've finally arrived at the middle infield Trio of BigD, DarBar/Purple Dino, and Go-Go. Everybody's first pick is probably Travis, and rightly so. Out of all the guys on the team, Travis is probably one of my favourite hitters; I love his swing/approach, his power considering he's a shorter guy (I think he could mash 20), and that he can hit to all parts of the field pretty well. I think he could put up Pedroia-like numbers, it's just injury issues holding him back. BigD definitely has the capability of hitting in the top half of this lineup, but with the guys we already have up there, hiding him in the bottom in the last spot is nice way of A) having a guy who can drive in runs from at the bottom of the order, and B) a guy who can get on base for Jose and Dosh to bring in every now and then when an inning has to start with 8, 9, 1 or 9, 1, 2. Following in behind Travis is Barney and Goins. They're not great hitters, and I won't hold that against them. I personally like Goins, and always kind root for him to defy expectations, and Barney is a slightly better version of him. They're meant to be bench depth, and I think they're both 'okay' with that role. Capable of weathering the storm if someone goes down with an injury for a bit, or filling in when some either Tulo, Dosh, or Travis need a day-off. Does having them in maybe lower the chances of winning the game, it could, but calling it a definite 'yes' every time they take the field isn't fair. No team is perfect in any regard.
Secondary Options: Barney (2nd), Goins (3rd), or the pitcher during interleague.
For everyone that stuck with me through semi-novel of a post, thank you, and I'm sorry. Even with a template laid out in front of me from a guy who writes a good amount of stuff about baseball, weighing options on who should hit where isn't as easy as some people may say it should be. If you think about it, I've kind of gone off of slash lines and career numbers for some of the guys, we didn't really take into account which pitcher is on the bump for the opposing team. I personally think we'll some interesting line-ups during the year with some new faces coming in, guys going through some hot and cold spells, injuries (they do happen), and some guys filling out new roles (i.e., Jose at leadoff as opposed t 3rd/clean-up). Some days, the book may even get thrown out the window and this team trots out something that makes all of us scratch our heads. Even if that's the case and the team pulls out the win, are you going to complain? I hope not, having more wins than the next team is the best way of assuring that you get to advance to the high-stakes crapshoot of the playoffs that we all want the team to try and get back to. Whether you have faith in Gibby's decision on who bats where or absolutely hate it, it's his call at the end of the day. He has his job for a reason, and until one of us is actually in that position, all we have is our opinion, and it's not going to change the card. This team will win, and this team will lose. Let's all just get ready for the ride.
Now if you'll excuse me, I have to get back actually writing out my notes for class.