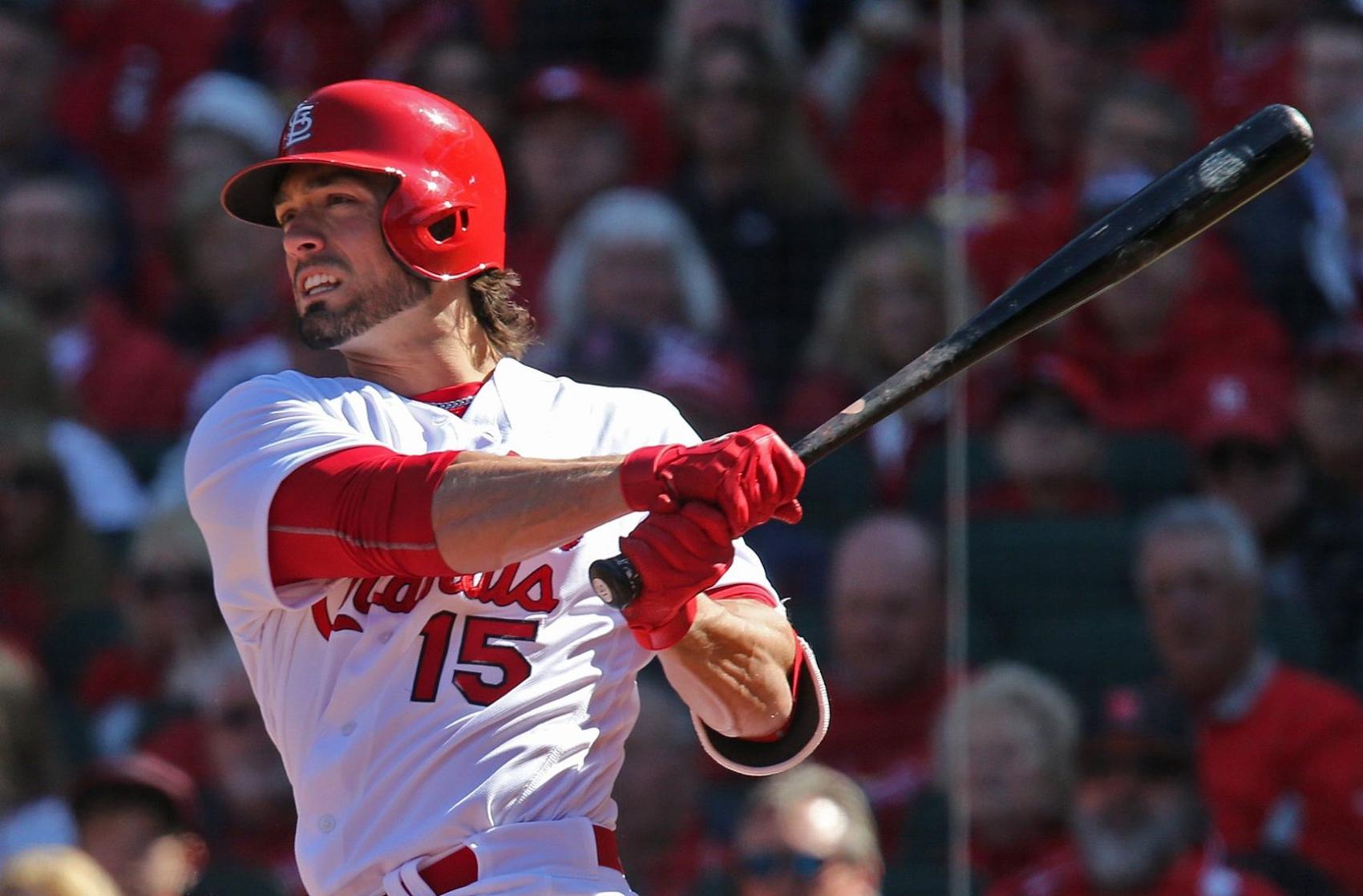 Randal Grichuk, the reason I had to re-write a bunch of this post.
As it usually does in mid-January, the offseason continue to drag on. This year, however, it's really dragging. Actually, "dragging" is a bit of a generous term for what we're witnessing. More accurately, it's just kind of sitting there.
Whatever you want to call it, it's really boring. Nothing is happening. Between the Ohtani and Stanton situations, there were a few exciting moves in December whose resolutions looked like they were going to open the floodgates of transactions, yet here we are, nearing the end of January, and the floodgates remain firmly shut. Every now and then, we get a trickle – Jay Bruce signed! Here we go! – but it looks like the only thing that will get this year's market started will be time.
Seriously… we're less than a month away from pitchers and catchers reporting, and the majority of the big free agents remain unsigned. By MLBTR's free agent predictions, 11 of the top 20 free agents are still available (including all of the top six), and nearly half of those who have signed are relievers. Things are weird.
But through it all, the Jays have quietly had a nice little offseason and made clear improvements to the team for little cost, both in payroll space and prospect cost. They bolstered their infield depth with Aledmys Diaz and Yangervis Solarte, and they added a solid veteran outfielder in Curtis Granderson on a cheap, one-year contract, then, just as I finished writing this post last week, they made me re-write a bunch of it by trading for Randal Grichuk. A bit of a dick move, but a valuable addition nonetheless. They haven't been splashy, but those are all under-the-radar moves that provide some desperately needed depth and flexibility, and three of those four players are under team control for three years or more, so they continue the trend of helping the team now and bridging the gap to the upcoming core of prospects.


Yangervis Solarte provides some much-needed depth and versatility.
We've discussed it in the comments section a few times, but I think the team, as constructed right now, can put together a really nice, underrated lineup. The numbers below won't necessarily reflect what we should expect going forward since some of the players are clearly on the downside of their careers, but here's a breakdown of what each player has done in the respective split over the last three years (and don't worry about the batting lineup… it means nothing here):
vs. RHP

vs. LHP

Pos

Player

wRC+

Pos

Player

wRC+

2B

Devon Travis

112

2B

Devon Travis

112

3B

Josh Donaldson

151

3B

Josh Donaldson

164

1B

Justin Smoak

113

1B

Justin Smoak

124

DH

Kendrys Morales

103

DH

Kendrys Morales

135

C

Russell Martin

104

C

Russell Martin

109

SS

Troy Tulowitzki

97

SS

Troy Tulowitzki

100

LF

Curtis Granderson

130

LF

Steve Pearce

107

RF

Randal Grichuk

111

RF

Randal Grichuk

104

CF

Kevin Pillar

80

CF

Kevin Pillar

108

IF

Yangervis Solarte

115

IF

Yangervis Solarte

80

IF

Aledmys Diaz

120

IF

Aledmys Diaz

83

OF

Ezequiel Carrera

97

OF

Ezquiel Carrera

86

OF

Steve Pearce

109

OF

Curtis Granderson

78

OF

Teoscar Hernandez

113

OF

Teoscar Hernandez

108

C

Luke Maile

LOL

C

Luke Maile

51
A few quick points about position players:
Those are both easily above-averaged, well-rounded lineups, and the only platoon is Granderson/Pearce.
Suddenly, the team looks perfectly suited to take on right-handed pitching. That should be a pleasant change. They also have a bit of speed and what looks like really good defense.
Looking at the quality of players on the bench against RHP makes the depth look pretty impressive. It also makes me wonder about Kendrys Morales's place on the team since he's a DH whose numbers pale in comparison to a couple of backup middle infielders. They would probably be much better off allowing guys to shuffle around as needed to keep better players fresh, healthy, and consistently in the lineup.
Looking at the quality of players on the bench against LHP makes me understand Morales's value to the team (a little bit… kind of).
There are now two too many bench player on this roster, which means either another move has to follow or one or both of Hernandez or Diaz (who both have options) will need to start the year in Buffalo.
Not listed are the abundance of depth options who will likely start the season in the minors but provide more high-end minor-league depth than the team has had in recent years. They include outfielders Dalton Pompey and Anthony Alford and catchers Danny Jansen and Reese McGuire (both of whom make me comfortable going into the season with Luke Maile as the backup catcher).
Marcus Stroman anchors what looks like a strong rotation,
though the fifth spot remains open.
As for the pitching:
| | |
| --- | --- |
| SP | Marcus Stroman |
| SP | Aaron Sanchez |
| SP | JA Happ |
| SP | Marco Estrada |
| SP | Joe Biagini |
| RP | Roberto Osuna |
| RP | Dominic Leone |
| RP | Ryan Tepera |
| RP | Danny Barnes |
| RP | Aaron Loup |
| RP | Carlos Ramirez |
| RP | Matt Dermody/Tim Mayza |
And a couple notes on the pitching:
I think that fifth starter spot will be and interesting development the next couple weeks. I don't think they're just going to hand the job to Biagini, but whether they bring in a mediocre pitcher to battle it out with him or an obvious upgrade to bump Biagini to a swing-man role remains to be seen.
The last couple of bullpen spots appear wide open, too, especially with Leone now having been shipped out. I expect one will go to an external candidate (or Biagini, if the external candidate is a starter) and the other will be a spring training duel between the internal candidates.
The depth here is better (or, at the very least, more interesting) than it has been in recent years, too, with some good pitching prospects at the upper levels, lead by Ryan Borucki.
Dominic Leone's departure leaves a hole at the back of the bullpen,
one that Joe Biagini could fill if another starter is brought in.
If you've made it this far, congratulations! I'm surprised I did! Now for the point of this whole thing: this is an overview on where the team stands right now, but as far as we know they should have somewhere around $15 million available. So where do they go from here? Will they make a big splash or will they just tinker with things? Will they try to find a high-end position player or will they add a pitcher instead? Will they move some of their excess position players or just plug valuable guys in the minors to bolster their depth to start the year?
My preference, as I've stated over and over again this offseason, would be to get rid of as much of Morales's contract as possible and use the roster spot on someone who provides more flexibility. The lineup against lefties would struggle, but it would give them far more options. A week ago, I would have recommended trying to sign Lorenzo Cain, assuming his price/term had dropped into their range, since his bat replaces Morales's nicely and he actually provides lots of speed and defense. With Grichuk in the fold, that no longer makes sense.
Former/future Kansas City Royal Kendrys Morales.
I think it makes the most sense to move two of Pearce, Morales, and Carrera. At that point, they would clear up a few million dollars extra and still have a really strong major league roster, as Hernandez and Diaz would take those opening day spots.
As for the remaining payroll space, a three-year contract to a second-tier free agent starter would fit perfectly on this team - someone like Lance Lynn, Alex Cobb, or even Jaime Garcia. It would round out the rotation, move Biagini into Leone's high-leverage bullpen role, and provide some insurance to a 2019 rotation that doesn't currently look to feature Happ or Estrada.
Regardless of which direction they go, it should be an interesting next couple of weeks. Or at least… for the love of god, please let it be an interesting next couple of weeks.