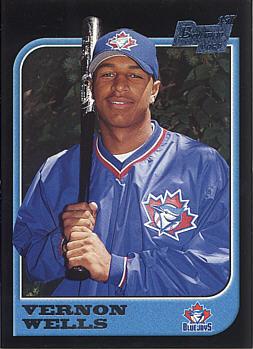 Today is the day! Baseball is back! (sort of) The first round of the 2020 MLB Draft is happening tonight and this is the Jays highest pick in 23 years! The last time Jays had a 5th pick or better was way back in 1997 when the Jays selected OF Vernon Wells 5th overall. Now I would be happy if the man we draft has a career as good as VW, but why stop there? Lets reach for the stars! Lets draft BO Two point Oh (2.0).

I am currently taking a quick lunch break from work so this is written hastily. I will try to update this post a bit more after work with pictures and flashy dog gifs!

After scouring some of links RADAR posted of mock drafts that are not behind a paywall, it looks the the top of the draft is shaping up to be pretty standard across the board. There are some slight variations in each so I will just do a breakdown of the most probable Jays picks based on players being available. Firstly, the top 4 appear to be shaking up like this, although the placement may be shaken up based on who picks who.
1. (DET) 1B Spencer Torkelson, Arizona State
2. (BAL)
LHP Asa Lacy, Texas A&M
3. (MIA)
OF Austin Martin, Vanderbilt
4. (KC)
OF Zac Veen, Spruce Creek HS

Now assuming the top 4 play out like that, which there is absolutely no guarantee they will, I will post the most likely players the Jays will take with the 5th pick as per the mock drafts. A lot of drafts have Veen falling to 5 so I will include him as well. The write ups are just copied from MLB.com.
Max Meyer, RHP, Minnesota
Meyer owns the best slider in the 2020 Draft, a wipeout 87-91 mph offering with which he can add and subtract depth. His four-seam fastball is a weapon as well, parking at 93-97 mph this spring, hitting 98 in the ninth inning of one start and maxing out at 100. His fading changeup showed flashes of becoming a solid pitch as he used it more often as a junior.
There are questions as to whether Meyer can start at the highest level, mainly coming because he's a lean 6-footer. But he's also a quality athlete who repeats a fluid delivery and fills the strike zone, and he was so dominant in the brief 2020 season, so he has plenty of believers.
Nick Gonzales, 2B, New Mexico State
The 5-foot-10 middle infielder has as much pure hitting ability as just about any bat in the 2020 class. He does it with a short and compact swing and a ton of bat speed, controlling the bat head extremely well through the strike zone. There's strength in his compact frame, but he might be more of a doubles hitter even though he did homer seven times on the Cape in 154 at-bats with wood. Gonzales has decent speed and is a solid base runner, and while he played shortstop this spring, evaluators don't think he has the arm or range to play shortstop. That does limit him to second base, but he's at least average there defensively.
Emerson Hancock, RHP, Georgia
Hancock shares a lot in common with Casey Mize, whom Detroit took with the top pick in 2018. They're both Southeastern Conference right-handers with similar builds who pound the strike zone with a deep repertoire and missed some time during their sophomore seasons. His best offering is a fastball that sits at 94-97 mph and peaks at 99 with riding life, and all three of his secondary pitches grade as at least plus at their best.
Zac Veen, OF,

Spruce Creek HS
Veen has the kind of left-handed swing that scouts can dream on, all coming from a projectable 6-foot-4 frame that can definitely add strength. He's more hit over power in games with excellent bat speed, especially because he utilizes a spread out stance, but he'll show off big-time power in batting practice when he stands more upright and creates leverage, showing the ability to loft the ball consistently. He's reminded some of Cody Bellinger offensively and has drawn some Kyle Tucker comps as well.



After suggesting that the Jays keep up with their surprisingly good luck of drafting/signing adult sons (Bo, Cavan, Vlad, Conine?, ect.) Lunchbox made this list of all the adult sons in the draft this year. Thanks Uncle Lunchbox!
- Trei Cruz (son of Jose Cruz Jr.)
- Peyton Glavine (son of Tom Glavine)
- Darren Baker (son of Dusty Baker)
- Jake Boone (would be the fourth generation of Boones if he makes it, son of Bret, nephew of Aaron, grandson of Bob, great-grandson of Ray)
- Jaden Agassi (son of Andre Agassi and Steffi Graf)
- Orlando Hernandez Jr. (son of "El Duque")
- Dante Girardi (son of Joe Girardi)
- Marquis Grissom Jr. (son of you-know-who)
- Cole Percival (son of Troy Percival)
- Kyle Karros (son of Eric Karros)
- Homer Bush Jr. (son of you-know-who)
Also, fun fact: Pete Crow-Armstrong's mother played Billy Heywood's mom in "Little Big League".
And now for the promised post-workday doggos.
What will happen? Who will they choose? Will they go off board!? stay tuned to find out.

UPDATE:! Day one complete! Jays appear to have gotten a stud!
— Toronto Blue Jays (@BlueJays) June 10, 2020
— Toronto Blue Jays (@BlueJays) June 11, 2020
Stay tuned for round 2!