Howdy folks. It's now four years since I did the last post of this series, so it's probably time to make another attempt. 2017 was not a good year for the Blue Jays. Nor was 2018. Or 2019. In 2020, they made the postseason, but drawing any conclusions from a 60-game season is dumb IMHO.
I mean, do you ever look at the stats leaders at the end of May, and think: "Yep, that's who'll be on top come the end of the year"? Definitely, the fanbases of every team have decided whether to punt or go all in by that time (Dabs decides to punt after the first loss of the season, but that's Dabs), but that's not how those in charge of teams operate. 60 games into a normal season, they're starting to draw conclusions about where their teams are at, but they're in no rush to act on those conclusions.
60 games into the 2019 season, the eventual World Champion Nationals were 27-33, in 4th place in the NL East, 6.5 games out. They proceeded to go 66-36 the rest of the way, knock the Brewers out in the Wild Card Game, and win the whole dang thing. All of this is a long winded way of saying that this thrilling season (despite not turning out the way we wanted it to) has inspired me to hammer away on my keyboard again, provide you with my thoughts on those deserving of awards, and all-star selections, and get a conversation going in the comments section to take our minds off of what might've been. C'mon along won't you?
As always, remember that my selections are based on the regular season only, so Eddie Rosario will not be winning the MVP Award. The BBWAA ballots have 10 slots for MVP, 5 for the Cy Young Award, and 3 each for the Jackie Robinson Award (ROY), and the Trevor Hoffman Award (Reliever of the Year).
I'm gonna up the JRA, and THA ballot slots to five each, just because. My All-Star teams in both leagues will have 32-man rosters (7 SP, 5 RP, 20 position players), and I'll set the one player per team rule on fire because I think it's trash. I know why it's there, but I don't like handing out participation medals. You ready?...And...Here...We...Go...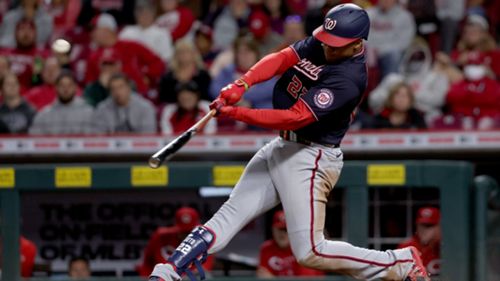 MVP:
1. Juan Soto, RF, WSN
2. Bryce Harper, RF, PHI
3. Fernando Tatis Jr., SS/RF, SDP
4. Zack Wheeler, SP, PHI
5. Trea Turner, SS/2B, WSN/LAD
6. Bryan Reynolds, CF/LF, PIT
7. Brandon Crawford, SS, SFG
8. Paul Goldschmidt, 1B, STL
9. Walker Buehler, SP, LAD
10. Corbin Burnes, SP, MIL
If you're of the mindset that pitchers should not be eligible for the MVP Award, you can remove Wheeler, Buehler, and Burnes, and replace them with Tyler O'Neill, LF, STL, Freddie Freeman, 1B, ATL, and Max Muncy, 1B/2B, LAD, in the 8, 9, and 10 slots. I'm not of that mindset because pitchers are players too, but I know from previous years that some of you are.
"It might mess with the swing of all the guys who are locked in, but I think it's going to fix mine because I'm hitting too many groundballs. I hope trying to put the ball in the air will fix my swing." My choice for NL MVP just finished off his age 22 season. He just turned 23 on October 25th. Call it brazen, cocky, confident, self assured, whatever. All I know is that this kid said something that most players would go their entire careers without saying. At the age of 22.
Were they empty words, or did he back it up? Let's see...Prior to the HR derby: 332 PA, 11 HR, 42 RBI, 54 R, 17.5 BB%, 15.7 K%, .283/.407/.445, .367 wOBA, and a 128 wRC+. Very nice numbers, for a mere mortal, but Soto is in the conversation for not just the best young hitter in the game, but the best hitter in the game. Even in that "slump", he was still walking more than he was striking out. He is scary good. And how about after that HR derby?: 322 PA, 18 HR, 53 RBI, 57 R, 27.0 BB%, 12.7 K%, .348/.525/.639, .477 wOBA, and a 199 wRC+. Holy hell! It's only 322 PA, but good god man! That's 87 BB, and 41 K for starters. The rest of it speaks for itself, and there actually are very few words to describe it.
His career slash line through his age 22 season is .301/.432/.550, with a 156 wRC+. He's only going to get better, and as a fan, I can't wait to watch it. The kid has flare for days. Kind of like a bull in the box between pitches, shuffling the dirt around with his feet while staring intently out at the pitcher. Smiling at the pitcher. Giving him a nod, and a wink to let him know that he's on to him. Sometimes when I see him I wonder WWBGD. What Would Bob Gibson Do? I think I already know the answer though, and I hope he can stay healthy, 'cause he's really special. The sky's the limit for him, and he's just getting warmed up.
In my mind, that top three separated themselves from the crowd. It really was Tatis' to lose, until his shoulder, and a position switch to RF, and then back again, possibly contributed to a "slump" down the stretch. That opened the door for Soto and Harper, who, in my eyes, blew past him with out of this world second halves.
Harper was every bit as good as Soto in the second half: 311 PA, 20 HR, 50 RBI, 54 R, 20.9 BB%, 20.6 K%, .338/.476/.713, .479 wOBA, and a 201 wRC+. It's not like Tatis was terrible. He was actually very good, but the injuries, and position changes probably put him off a bit, and Soto and Harper basically went bananas. Probably a ton of players would take Tatis' second half: 233 PA, 14 HR, 37 RBI, 32 R, 11.2 BB%, 27.9 K%, .278/.365/.551, .385 wOBA, and a 145 wRC+. Like I said, damn good. Just not good enough this year. He's another young player who's a lot of fun to watch, but he has to stay healthy.
If you're a fan that believes that MVPs should only come from contending teams, you might want to find yourself another one of these types of summaries of the 2021 season. There'll be a ton of them out there I'm sure. My philosophy is that you do not hold a player responsible for what his teammates did or failed to do. You judge the player on his own merits. This team (the Nats) also had Trea Turner and Max Scherzer on it, at least until the deadline. Beyond those three, they must've been an absolute shambles to lose 97 games.
If you're still of that mindset, you probably have to go all the way down to Brandon Crawford of the Giants at #7. He kind of proves my point though. He was awesome, but he had so much help around him that enabled the Giants to have an out of nowhere 107 win season. The MVP is an individual award for me, and I've seen way too many examples of a worthy candidate's crappy teammates robbing him of it over the years to count.
Don't let the Pittsburgh Pirates current nomadic existence in the Baseball Desert fool you. That Bryan Reynolds guy looks legit. With Ben Cherington heading up the Baseball Ops Dept now, the days of Chris Archer, and Drew Hutchison trades are over. Cherington knows what he's doing, and with any luck they'll be able to get Reynolds locked up long term. Hopefully he can stay in CF, but his bat will play anywhere.
CYA:
1. Zack Wheeler, SP, PHI
2. Walker Buehler, SP, LAD
3. Corbin Burnes, SP, MIL
4. Max Scherzer, SP, WSN/LAD
5. Brandon Woodruff, SP, MIL
The rest of this is gonna be presented without comment because since I wrote the part above, I got some news about family stuff that happened about 35 years ago that has knocked me on my ass, and completely rattled me. I'm one of the most laid back people you'll ever know. I don't anger easily, and I'm not prone to violence, but if certain members of my extended family died in a fire tomorrow, I'd be OK with that. I want to finish this series (AL to come on Monday) to honour the work I put into this before I heard about it, but the creative juices just ain't there right now.
Jackie Robinson Award (ROY):
1. Jonathan India, 2B, CIN
2. Trevor Rogers, SP, MIA
3. Frank Schwindel, 1B, CHC
4. Dylan Carlson, RF/CF, STL
5. David Bednar, RP, PIT
Trevor Hoffman Award (Reliever of the Year):
1. Josh Hader, MIL
2. Craig Kimbrel, CHC
3. Blake Treinen, LAD
4. Kenley Jansen, LAD
5. Tyler Rogers, SFG
National League All-Stars:
Starting Pitchers:
Zack Wheeler, PHI
Walker Buehler, LAD
Corbin Burnes, MIL
Max Scherzer, WSN/LAD
Brandon Woodruff, MIL
Ranger Suarez, (SP/RP), PHI
Kevin Gausman, SFG
Relief Pitchers:
Josh Hader, MIL
Craig Kimbrel, CHC
Blake Treinen, LAD
Kenley Jansen, LAD
Tyler Rogers, SFG
Position Player Starters:
C: Buster Posey, SFG
1B: Paul Goldschmidt, STL
2B: Trea Turner, WSN/LAD
3B: Austin Riley, ATL
SS: Fernando Tatis Jr., SDP
OF: Juan Soto, WSN
OF: Bryce Harper, PHI
OF: Bryan Reynolds, PIT
Position Player Reserves:
C: Will Smith, LAD
1B: Freddie Freeman, ATL
1B: Joey Votto, CIN
2B: Max Muncy, LAD
2B: Jonathan India, CIN
3B: Manny Machado, SDP
3B: Justin Turner, LAD
SS: Brandon Crawford, SFG
SS: Corey Seager, LAD
OF: Tyler O'Neill, STL
OF: Nick Castellanos, CIN
OF: Ronald Acuna Jr., ATL
Those are my picks. How 'bout yours? Discuss below.